Beheading trial opens in New York for TV executive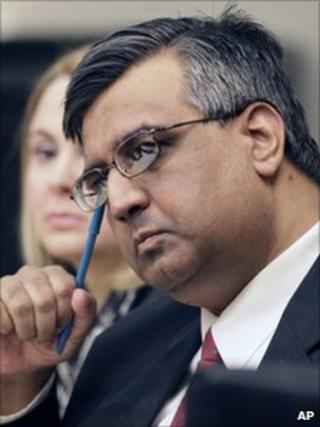 A prosecutor has said a TV executive accused of beheading his wife stabbed her 40 times before completing his "final act of domination and control".
A jury in New York state was told that Muzzammil Hassan had killed Aasiya Hassan, whose body was found at a TV station, because she filed for divorce.
Mr Hassan, 46, is charged with second-degree murder in the 2009 attack.
He founded a US Muslim television network to counter negative images of Muslims after the 9/11 terror attacks.
Mrs Hassan, 37, had filed for divorce six days prior to the incident after enduring previous incidents of domestic violence, her lawyer told the Buffalo News in 2009.
But Mr Hassan's lawyer, Jeremy Schwartz, disputed the claim on Tuesday, saying Mr Hassan was beaten by his wife and feared for his life.
'Negative portrayals'
Bridges TV, a satellite-distributed news and opinion channel, was founded by Mr Hassan in 2004 and was based in a suburb of Buffalo, in upstate New York.
Upon launching the channel, Mr Hassan said he hoped to counter negative portrayals of Muslims following the 9/11 attacks.
He worked as the network's chief executive officer, while Aasiya Hassan was employed as the company's general manager.
The authorities were made aware of the incident after Mr Hassan went to a police station in Buffalo and told officers his wife had died, police said.
Mr Hassan has pleaded not guilty to the charge of second-degree murder.