Piers Morgan's debut as CNN host after Larry King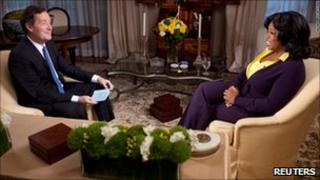 Britain's Piers Morgan made his debut on Monday night with his own interview programme on the American cable network CNN, replacing long-time host Larry King. But how did the former tabloid editor fare?
His inaugural guest was chat show host Oprah Winfrey.
"Surprising," was Oprah's reply when asked by Morgan how he'd done on his first show.
"Surprisingly bad?" shot back Morgan, seeking approval from her.
"No, just surprising - and that's a good thing. Who doesn't want to be surprised?"
As Oprah delivered her verdict, the usually super confident Morgan, displayed a hint of vulnerability.
'Masterclass'
What people think of his new American talk show, Piers Morgan Tonight, matters - not just to the man himself but to his bosses at CNN, who hope their new signing will help revive the network's flagging ratings in the evening time slot.
Although Morgan has built up a name in the States, having appeared as a judge on America's Got Talent, he is by no means a big household name. Not yet, anyway.
Clutching his cue cards, he faced Oprah perched on a cream armchair, in what might have been her lounge, or at least a room set up to be. A glass table was off to one side, and fresh flowers were dotted around the room to complete the touchy-feely look.
Picking Oprah, arguably America's most famous woman and someone who is known for getting people to open up, was an interesting way to kick off proceedings.
At some points it felt like watching an interviewing masterclass, as Oprah dissected Morgan's performance.
"I know what you're up to. I know that trick," she remarked when Morgan tried (and failed) to get her to reveal how much money she is worth.
Most of the questions Piers Morgan asked weren't particularly probing.
"What is it like to have a network in your own name?", "How many people do you absolutely 100% trust?" (Answer - probably five), and "Do you like being famous?" hardly amount to an interrogation, but Morgan's style is far more relaxed, and caught Oprah off guard on a few occasions.
When he asked her how many times she had properly fallen in love and why she had never married her long-time partner, Stedman Graham, she seemed impressed by his "provocative questions". "You are good, you are good, and I'm not trying to flatter you," she added.
'Lost in translation'
It is the slightly cheeky, and off-limits questions to politicians for GQ magazine in the UK that gained Morgan notoriety as an interviewer.
The now infamous question to Liberal Democrat leader Nick Clegg about the number of women he had slept with is one toe-curling example, which produced hundreds of headlines.
But some of that British matter of factness seems to have been lost in translation. At several points during the interview Morgan gushed at Oprah - "You are the American queen - do you feel regal?", "What I like about you is... ", "Everything you touch is a hit, could you just touch me?"
This is not the tough questioning of the BBC's Jeremy Paxman, and it is not trying to be, but there were moments where Oprah opened up on more serious topics, such as falling pregnant and losing her baby at the age of 14.
"I thought, before the baby was born, I'm going to have to kill myself," she said as she talked about drinking detergent as a cry for help. She also said she'd never had therapy, and opened up about her relationship with Mr Graham, admitting it had taken years for her to fall in love with him.
During the course of the interview, both Oprah and Morgan revealed they were chasing an interview with American football's man of the moment, Michael Vick.
They had a bet on whoever speaks to him first.
"I always dream of being your rival," joked Morgan as he shook hands with Oprah.
It is too early to know, after one episode, whether the show will be a hit in America, let alone rival Oprah's.
Ratings aside, TV critics here will be judging how Morgan handles the wide variety of guests on his show (this week he has shock jock Howard Stern, comedian Ricky Gervais and former Secretary of State Condoleezza Rice), and whether he can continue to pull in big name guests.