Arizona shooting: Judge John Roll's funeral held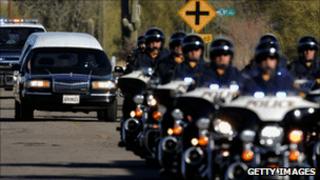 Mourners in Arizona have paid tribute to a US judge killed in Saturday's shooting in Tucson.
Judge John Roll had stopped to see Congresswoman Gabrielle Giffords at a constituency meeting when a gunman opened fire on the crowd, killing six.
His funeral was held the day after that of a nine-year-old girl killed in the attack, at the same Catholic church.
Ms Giffords, shot through the head, remains in critical condition but appears to be recovering, doctors said.
Jared Loughner, 22, is being held pending trial over the shooting, in which more than a dozen people were injured.
Mourners arrived at St Elizabeth Ann Seton Catholic Church in Tucson, the city where the shooting occurred, amid heavy security on Friday.
A programme for the funeral listed the judge's three sons as pallbearers in the service, and family members and two federal judges were to give readings.
Dozens of Mr Roll's colleagues on the bench attended the funeral, as well as dignitaries including Arizona Governor Jan Brewer, Arizona Senators John McCain and Jon Kyl and former Vice-President Dan Quayle, who brought a handwritten note from Former President George Bush Sr.
Mr Roll was appointed to the US District Court for Arizona by Mr Bush in 1991 on Mr McCain's recommendation, and was described as a devoted, talented and gentle man.
Mr McCain and Mr Kyl announced on Friday that they would introduce legislation to name a soon-to-be constructed federal courthouse in the town of Yuma the John M Roll United States Courthouse in honour of the judge.
"As chief judge, he was a tireless advocate for all Arizonans, working to guarantee the federal courts in our state were capable of handling the growing caseload while ensuring swift justice for all," the two senators said in a joint statement.
President Barack Obama also praised the judge at a memorial service on Wednesday in Tucson, saying his colleagues described him as "the hardest-working judge within the ninth circuit".
'Not the target'
Mr Roll was a graduate of the University of Arizona, and attended Mass every day, including the morning before the shooting.
He reportedly received death threats in 2009 when he allowed a $32m (£21m) lawsuit filed by illegal immigrants against an Arizona rancher to proceed. More than 200 threatening phone calls were made to his office on one day.
Officials at the time said many of the threats were stirred up by right-wing talk radio. He received police protection for a month as a result.
Authorities have said Mr Roll was not the target of the attack - Ms Giffords was - but have said he stopped by the store after Mass to say hello to Ms Giffords and possibly to talk to her about overcrowding on the court docket.
His funeral comes a day after 2,000 mourners packed into that church for the funeral of nine-year-old Christina Taylor Green, also killed in the shooting.
Meanwhile, Ms Giffords's doctors said on Friday morning that she has begun more frequently to open her eyes and was able to carry out increasingly complex actions on command.
"We're very encouraged that she's continuing to make all the right moves in the right direction," Dr Michael Lemole told reporters. "We couldn't have hoped for any better improvement than we're seeing now, given the severity of her injury."
In another development, the Pima County Police Department in Arizona released information on Friday detailing the items found in Mr Loughner's pockets when he was taken into custody.
They included two 15-round magazines, a knife and a plastic bag containing money, his bank card and his driver's licence.