Haitians remain 'in limbo' in US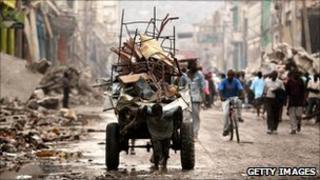 One year after Haiti's earthquake, many of those who fled to America seeking refuge are still living in limbo, unable to go back to their shattered homes and waiting to see if they can stay.
In the heart of New York's Haitian community, in Flatbush, Brooklyn, I met Judith Polidor, a mother-of-two who used to be an official in Haiti's ministry of education.
Ms Polidor came here in the aftermath of the earthquake, seeking stability and a place to educate her two children.
Leaving Haiti was not an easy decision, but she felt she had no choice, because of the devastation wrought by the quake.
Ms Polidor cannot legally work or study here.
She has applied for visas for her two children - and she hasn't heard anything yet from the US authorities, who have 105,000 outstanding visa applications from Haitians.
"It was difficult at first, taking the children to school, and then staring at the four walls of the house, I thought I would go crazy," she says of her life in New York.
"Then I found the pastor of a church who counselled me, and I started volunteering, helping Haitians in the same position as me.
"Helping them has helped me to help myself."
I met her in the Haitian Family Resource Centre in Flatbush, where she is being assisted by Meredith Fortin, a law clerk from from Lutheran Social Services.
Ms Polidor hopes to be given a work visa so she can study, and ultimately return home to help rebuild Haiti. She would like to study medicine.
'Clarity needed'
Ms Fortin says that many Haitians who came here in the aftermath of the earthquake are now in a very difficult position.
They often came on tourist visas which have now expired, they have applied for new visas but not heard anything, they can't work or study, and are forced to rely on handouts from churches and relatives.
Ms Fortin sees clients still traumatised by the earthquake, who are forced to choose between returning to Haiti and remaining here illegally.
Further complicating matters, the US immigration authorities have temporarily stopped processing visa applications from Haitians who arrived here after the earthquake.
Ms Fortin says this has confused many Haitians, and she wants to see clarity from the government on how it intends to proceed.
What's more, the deportations to Haiti which the US authorities suspended immediately after the earthquake are about to resume.
Status worries
While Judith Polidor's future is unclear, Betty Mahotiere Gerbier has a new job.
Ms Gerbier also left Haiti after the earthquake and came to New York.
Because her son was already here living with relatives at the time of the quake, Ms Gerbier was eligible for what's called temporary protected status (TPS) - a special temporary work and study permit, introduced by the US government to enable those here without legal status at the time of the quake to earn money and send it back to Haiti.
Some 46,000 Haitians have been granted TPS, which is meant to be a form of humanitarian aid.
Ms Gerbier works as an assistant on the school bus run, which she enjoys.
"Life is coming along," she says, but she is worried that her work permit is only temporary. It is due to expire in July, 18 months after the earthquake.
"I would like my status to be extended," she tells me. "Soon I will start sending money home to Haiti."
One year after the earthquake, the future is uncertain for both Judith and Betty.
Both are resilient women, who have endured much - and are looking to America to provide a place of safety.