Arizona shootings: 'Creepy' Loughner alarmed college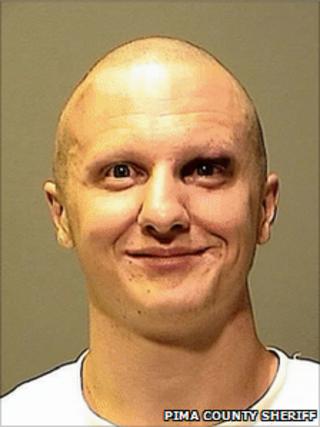 The behaviour of the suspect in Saturday's deadly shooting in Arizona grew increasingly bizarre in the months before the attack, records show.
Documents released by the college Jared Loughner attended suggest he was prone to nonsensical outbursts and was confronted several times by police.
School officials described Mr Loughner's "dark personality" and some feared for their safety around him.
Mr Loughner has been jailed pending trial in the attack, which killed six.
The attack took place at a meeting US Congresswoman Gabrielle Giffords was holding at a supermarket for constituents in Tucson, Arizona.
Among those killed were a federal judge and a nine-year-old girl. More than a dozen others were injured. Ms Giffords remains in critical condition in hospital. Police say Mr Loughner, 22, had targeted her for assassination.
Little recourse
Dozens of pages of documents released by the Pima Community College campus police department show officers confronted Mr Loughner several times after being contacted by instructors and school officials concerned he might be mentally ill or under the influence of drugs.
School officials have not said if the reports were shared with any authorities beyond campus. Commentators say the documents will be studied for evidence on whether the college did everything it could and should have done.
The records state:
In February Mr Loughner read a poem in class, then spoke on about abortion and killing and suggested "why don't we just strap bombs to babies"
In April he made several loud outbursts while using a library computer, then told police sent to check on him that he was merely enjoying music playing in his headphones and promised not to do it again
In May, he told an instructor his grade was "unacceptable" and threw his work on the floor, and the instructor feared he would attack her
The next month, an administrator told police an instructor and students were uncomfortable having him in class and were afraid of him
He challenged a maths teacher, insisting the number six was in fact the number 18
Mr Loughner complained that his freedom of speech had been violated when an instructors refused to give him full credit for a late assignment
Several times in spring 2010, police and school administrators who had been alerted to his bizarre behaviour decided they had little recourse to deal with him because he had not violated the law, the documents state.
After the summer break, administrators and counsellors verbally admonished him to rein in his outbursts and non sequiturs, and in those confrontations, Mr Loughner appeared obsessed with freedom of speech and thought.
'All a scam'
Officers described him as "jittery", "creepy," "very hostile" and "having difficulty understanding what he had done wrong in the classroom". They wrote that they recognised signs of mental illness.
Finally, in September, police delivered a suspension notice to his home. During the encounter in his family garage, Mr Loughner "held a constant trance of staring", then finally declared "I realise now this is all a scam".
Earlier that day, Mr Loughner posted a rambling video on YouTube describing Pima Community College as "my genocide school", and calling it "one of the biggest scams in America".
Documents show police recognised Mr Loughner's voice narrating the video but obtained a subpoena against Youtube owner Google for information about the anonymous uploader as if preparing legal action.
Mr Loughner was told by letter that before he could return to class, he would need to present a letter from a mental health professional certifying he was not a threat.