US military chief Mike Mullen in Afghan warning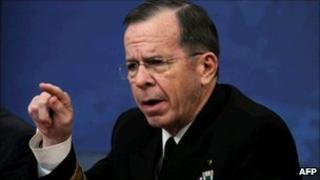 The US military's most senior officer has warned there will be an increase in bloodshed in Afghanistan this year.
Adm Mike Mullen, chairman of the Joint Chiefs of Staff, said Taliban leaders had been eliminated in the troubled provinces of Kandahar and Helmand.
But the gains made by the Afghan and international troops were "tenuous and fragile", he said.
2010 has been the deadliest year so far for foreign troops in Afghanistan since the Taliban were ousted in 2001.
Adm Mullen also voiced concern over the situation in neighbouring Pakistan - a key ally in the fight against militancy - calling it the "epicentre" of global terrorism.
"It is absolutely critical that the safe havens in Pakistan get shut down. We cannot succeed in Afghanistan without that," he said.
'Violence will be worse'
US forces comprise by far the largest element in Nato-led international forces in Afghanistan.
"As difficult as it may be to accept, we must prepare ourselves for more violence and more casualties in coming months," Adm Mullen told reporters in Washington on Wednesday.
"The violence will be worse in 2011 than it was in 2010 in many parts of Afghanistan," he added.
Adm Mullen said that things were likely to get harder before they got any easier.
"Now is not the time to rest on our laurels, it's the time to press on our advantages and to redouble our efforts."
Last year saw a massive surge in violence in Afghanistan with more than 700 Nato troops killed.
US President Barack Obama has said US forces will begin pulling out of Afghanistan in July 2011.
Adm Mullen said the Afghan strategy announced by President Obama was on track.
"Our military presence will diminish, as it should, but the partnership between our two nations will endure," he said.
And he praised Afghan security forces, noting the pace at which they were being trained.