Canada captures US fugitive Laframboise after 16 years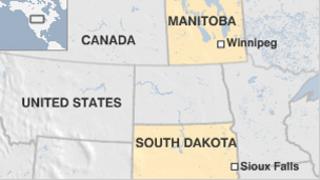 A fugitive who police say is one of South Dakota's most wanted prison escapees has been arrested in the Canadian province of Manitoba, 16 years after he went on the run.
Clifford Laframboise had been serving an 18-year sentence after being convicted of burglaries in 1988.
The 42-year-old escaped from an annex of the South Dakota State Prison in 1994, officials said.
The Winnipeg native faces an extradition hearing set for Thursday.
Laframboise, who also goes by the name Clifford Thomas, was caught last month after the Royal Canadian Mounted Police launched an investigation into the case, exploring the possibility that he was living in Manitoba.
Laframboise, who committed a series of burglaries while he was living in the US, escaped from jail in the South Dakota city of Sioux Falls in December 1994 and has been wanted by the state ever since.
If he is extradited, he will have to complete another seven and a half years of his sentence and may face additional prison time if he is convicted of charges related to his escape, the Canadian Broadcasting Corporation reported.
The fugitive, who is currently being held at the Winnipeg Remand Centre, also faces trial on sex-related charges stemming from alleged incidents between 2008 and 2010, the Toronto Star newspaper said.
If the extradition proceedings move forward, the entire process could take several years.