Arizona shooting: Loughner 'ran red light' before attack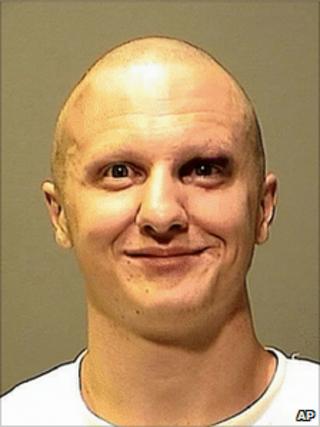 The suspected gunman from Saturday's deadly shooting in Arizona was stopped for running a red light hours before the attack, police say.
Jared Loughner, 22, was given a verbal warning by an Arizona police officer, the Associated Press reported.
Fresh details have begun to emerge about the hours ahead of the attack in which six people were killed and 13 injured, including a congresswoman.
Mr Loughner has been jailed pending trial for the attack.
US Congresswoman Gabrielle Giffords, a Democrat, remains in critical condition after being shot through the head in the Saturday attack at a grocery store where she was holding a constituent event.
In Tucson, Arizona, where Mr Loughner lived and where the attack took place, investigators have said they found a handwritten note among Mr Loughner's effects bearing the words "Die, bitch", which they believe was a reference to Ms Giffords.
Other notes previously disclosed read "I planned ahead", "My assassination" and "Giffords".
The Arizona wildlife officer who stopped Mr Loughner the morning of the attack took his name and vehicle registration, and released him with a verbal warning after learning he was not wanted on any warrants.
"He had a valid license, the car was registered, he had insurance," Arizona Game and Fish department spokesman Jim Paxon said.
"He was warned and released because we had no probable cause to hold, or do an extensive search."
Also the morning before the shooting, Mr Loughner was confronted by his father, who asked why he was removing a black bag from the trunk of the family car, reports quoting law enforcement officials said.
Mr Loughner, who had been expelled from a local college over concerns for his mental health and had been rejected by the US Army for drug use, fled into the desert, AP said.
Police visits
Mr Loughner's parents late on Tuesday released a statement saying they had been devastated by the attack and pleaded for privacy.
"There are no words that can possibly express how we feel," Randy and Amy Loughner wrote in a statement handed to reporters waiting outside their house.
"We wish that there were, so we could make you feel better. We don't understand why this happened. We care very deeply about the victims and their families. We are so very sorry for their loss."
It has also emerged that police had been to the Loughner house before the attack.
The Wall Street Journal reported police visited the house to investigate non-violent incidents, including a report by Jared Loughner of identity theft, a noise complaint and Amy Loughner's claim that someone had stolen her license plate sticker.
Mr Loughner has been charged with several federal crimes over the shooting, and could face the death penalty if convicted. In an initial court appearance on Monday, he was remanded in custody pending trial.