Verizon to begin selling Apple iPhone 4 in February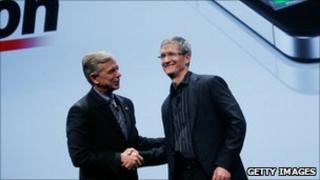 Verizon Wireless has announced it will begin selling the Apple iPhone 4 in the US on 10 February, a move that comes just days after top US mobile carrier unveiled new 4G phones.
The move gives iPhone users in the US a choice of carriers for the first time.
But the iPhone, which runs on Verizon Wireless' older CDMA network, will not run the fourth-generation technology.
AT&T, the phone's current exclusive operator, has received continued criticism for network crowding.
At a press event in New York on Tuesday, Verizon president Lowell McAdam joined Apple chief operating officer Tim Cook to announce that the CDMA Verizon version of the iPhone 4 would soon be available.
The phone will go on sale in stores on 10 February, while pre-orders for Verizon customers will begin on 3 February, Verizon said.
Older technology
The iPhone 4, which operates using 3G technology, will not be able to make phone calls and connect to the internet at the same time because of a difference between Verizon's updated 4G systems and the current technology the iPhone 4 employs.
The price of the phone will be either $200 (£128) or $300, depending on the size of the phone, with a two-year contract - roughly the same as the cost of the iPhone through AT&T.
Verizon currently offers wider network coverage within the US than AT&T, which could prompt some current iPhone owners to switch carriers.
But other iPhone users may prefer to stay with AT&T because of the Verizon network's inability to provide simultaneous calls and internet use.
"The biggest issue about the device is that I can't do data and voice at the same time, and that's a big killer," said New York City resident Noel Hidalgo, adding that he will not be switching to Verizon.
"How am I going to be able to talk on the phone and look up an address when someone's talking to me?"
Since the phone was unveiled three and a half years ago, AT&T has faced criticism from some consumers, especially in metropolitan areas, who have complained of crowding on the carrier's network - resulting in dropped calls.
Last year, AT&T stopped offering new customers unlimited data-use plans. It is unclear if Verizon will offer the same unlimited plans it currently offers other smart phone buyers.
About 11m iPhones were activated in the first nine months of 2010, while analysts expect Verizon to sell between 5m and 13m in 2011.