Governor Jerry Brown unveils California spending plan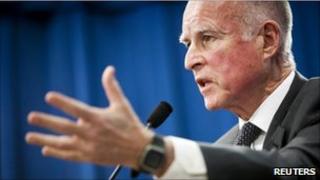 California Governor Jerry Brown has unveiled the first spending plan of his administration, hoping to resolve the state's $25bn (£16bn) budget deficit.
The Democratic governor's $86bn plan for the coming fiscal year calls for cuts in programmes at universities and medical care for the poor.
The scheme would also eliminate new corporate tax breaks and two state-wide incentives for business development.
Mr Brown said he hoped to get "the state on a balanced footing".
"Here's the problem - we're very divided," Mr Brown said of the California electorate.
"My job is to find some common core here that we can agree on."
His budget projects the deficit at $25.4bn over the next 18 months.
'Shifting responsibilities'
To reduce the state's deficit, the governor's plan calls for $12.5bn in spending cuts, including reductions in the provision of welfare, social services and higher education, as well as $12bn in funding shifts and new revenue if voters approve tax extensions.
Under the new plan, Mr Brown hopes that shifting numerous responsibilities - from incarcerating offenders convicted of minor crimes to providing foster care - to local governments will reduce the weight of California's economic woes.
The governor said the new proposal for the coming fiscal year, which begins on 1 July, seeks to end the state's deficit and balance the state's budget for the next few years without borrowing money.
"It's better to take our medicine now and get the state on a balanced footing," he said.
Under the new plan, fees at community colleges in the state would increase, while colleges in California would also lose roughly $400m in funding.
Visits to doctors' offices for recipients of the state's Medi-Cal health insurance programme would be limited to 10 per year under the new proposal. Some annual benefits would also be capped and new co-payments expected from those in the programme.
Mr Brown said he wants the legislature in California to call a special election in June to ask for tax extensions, which are due to expire this year.
But the election would require support from Republican lawmakers in the state, who have not viewed the idea favourably.
Voters previously rejected the extension of those taxes in 2009, as part of a measure placed on the ballot by the state's legislature and former Governor Arnold Schwarzenegger.