Republican Tom DeLay sentenced to three years in prison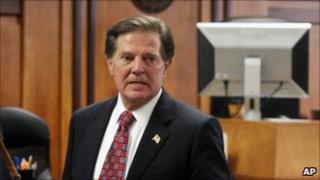 Former US House Republican Leader Tom DeLay has been sentenced to three years in prison on conspiracy charges.
The Texas politician was convicted of conspiring to funnel corporate campaign contributions to legislative races in Texas, in violation of state law.
DeLay resigned as House Majority leader five years ago, after his indictment. A Texas jury found him guilty of money laundering and conspiracy in November.
DeLay has called the case a political vendetta.
"I can't be remorseful for something I don't think I did," DeLay said in a statement before the sentence was passed.
Appeal planned
Texas Judge Pat Priest sentenced DeLay, once one of the most powerful politicians in Washington DC, to three years for conspiracy to commit money laundering.
He also sentenced DeLay to five years for money laundering but allowed him to accept 10 years of probation in lieu of the added prison time.
Prosecutors said that during the 2002 mid-term election campaign, DeLay aides took $190,000 (£121,935) that had been donated by corporate lobbyists to a campaign committee DeLay controlled and gave it to an arm of the Republican National Committee. That group then distributed the funds to seven state legislative candidates.
Six of those candidates won, giving the Republican Party control of the Texas House of Representatives, which later pushed through a redistricting plan that sent more Republicans to Washington in 2004, solidifying DeLay's hold on power.
DeLay contended the swap was legal, and that no corporate money was given to state-level candidates.
His attorney said he planned to appeal against the verdict.
At the hearing on Monday, former Republican House Speaker Dennis Hastert of Illinois testified on DeLay's behalf.
He said DeLay was motivated by the desire to help his Texan constituents, and talked about the former congressman's religious beliefs and his efforts to lower taxes.