Fire-damaged Horizon Oil Sands plant 'could resume'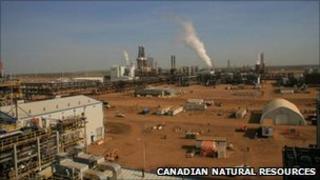 The Horizon Oil Sands facility could resume limited operations after a fire damaged key equipment last week, owner Canadian Natural Resources has said.
In a statement, the company said two of four coke drums used to extract petroleum from bitumen at the Alberta site suffered only minimal damage.
Five workers were injured in the 6 January blaze. The company did not specify when production would restart.
Canadian authorities have yet to determine the cause of the fire.
The plant produced on average 90,000 barrels of synthetic crude oil per day last year.
"Although it is too early to conclusively determine at this stage, there is the possibility that two of the four coke drums could be started up in a shorter time frame allowing the Horizon plant to run at production rates roughly half of target capability until the repairs to the other coke drums cutting deck and derrick infrastructure is completed," the company said.
The company also said government investigators had allowed its workers access to the plant in order to ensure it is not damaged by frigid winter weather.
Canadian Natural Resources said four injured workers had been "medically cleared" the same day as the fire and a fifth remains in hospital in stable condition.
Alberta's oil sands are the largest petroleum reserve outside the Middle East.