Giffords shooting: Suspect Jared Loughner charged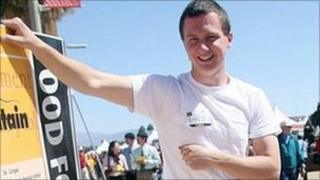 US authorities have charged a 22-year-old man over Saturday's Arizona shooting in which a congresswoman was seriously wounded and six people died.
Federal prosecutors charged Jared Loughner with trying to assassinate Gabrielle Giffords, 40, and killing two other government officials.
Mr Loughner, who is due to appear in court, could face the death penalty.
Ms Giffords is in a critical condition after being shot in the head at a public meeting in Tucson.
She had been holding an open-invitation meeting with constituents outside a supermarket when a man holding a gun approached and opened fire.
She was shot from close range by the gunman, who then began shooting into the crowd.
Among the dead were a nine-year-old girl and a federal judge. A total of 14 people were injured, in addition to the six who were killed.
Local Sheriff Clarence Dupnik said a woman tackled the gunman as he tried to reload, snatching a magazine of bullets.
Patricia Maisch, who was waiting to have her photograph taken with the congresswoman, grabbed the bottom of the suspect's weapon to prevent him from reloading.
He managed to reload with another magazine, but the gun malfunctioned and two men then restrained him.
"Somebody said 'Get the magazine!' so I got the magazine, and I was able to secure that," Ms Maisch said. "That's what needed to be done."
The sheriff said they had prevented a much greater tragedy.
Police searching Mr Loughner's Tucson home said they had found an envelope with messages saying "I planned ahead", "my assassination", and the name Giffords.
So far, Mr Loughner has been charged only with offences relating to the attack on government employees, which is the responsibility of federal prosecutors.
They charged him with two counts of first-degree murder for the killings of Federal Judge John Roll and Gabe Zimmerman, an aide of Ms Giffords.
He was also charged with attempted assassination over the shooting of Ms Giffords, and two counts of attempting to murder two other aides.
The justice department said he would appear in court in Phoenix on Monday.
State authorities are expected to bring charges against him later for attacking non-government employees.
An unidentified man, whose image was captured on a security camera shortly before the attack and who had been suspected of acting as an accomplice, was cleared on Sunday of any involvement in the attack, Mr Dupnik said.
The man was a cab driver who walked into the supermarket with Mr Loughner because he did not have change for a $20 note. The shooting occurred just after the two exchanged money, Mr Dupnik added.
911 calls
US President Barack Obama has called on Americans to observe a "moment of silence" for the victims at 1600 GMT on Monday.
On Sunday, police released tapes of emergency 911 calls made at the time of the attack.
In one, a caller says: "I see the man that was caught shooting was held down by some other... people.
"They took away his gun and they're holding him down so he can't do anything else."
Various former classmates have described Mr Loughner as "obviously disturbed".
He was said to be a loner who had posted a number of anti-government videos and messages on social-networking websites.
Shortly before the attack, he had posted: "Goodbye friends. Dear friends, don't be mad at me."
Doctors at the hospital where Ms Giffords is being treated said they were "cautiously optimistic" about her recovery.
The congresswoman was described by Democratic colleagues as a rising star in the party.
All of next week's legislative debates in the House of Representatives have been postponed.