Shot US congresswoman Gabrielle Giffords 'doing well'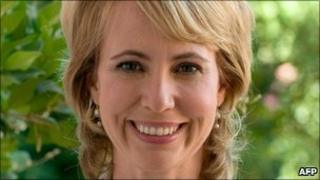 US congresswoman Gabrielle Giffords, who was shot in the head by a gunman in Arizona, is responding well to treatment and can follow simple commands after surgery, doctors say.
They said it "was still very early" but they were "cautiously optimistic".
Ms Giffords, 40, was injured and six other people killed at a public meeting at a Tucson supermarket on Saturday.
Five charges have been filed against Jared Loughner, 22, and he will appear in court in Phoenix on Monday.
The dead included a nine-year-old girl, federal Judge John Roll - who had served Arizona's legal system for 40 years - and one of Ms Giffords' political aides. Fourteen people were wounded.
US President Barack Obama has called on Americans to observe a "moment of silence" for the victims at 1600GMT on Monday.
'Trying period'
Surgeons at the Arizona University Medical Center said Ms Giffords was still in a critical condition but they were encouraged as the bullet that hit her had entered only one and not both hemispheres of the brain.
It had travelled the length of the left side.
The doctors said their surgery had initially controlled the bleeding, then taken the pressure off the brain.
Transfusions had worked well, they said, and after the surgery Ms Giffords could respond to simple commands.
Dr Peter Rhee, medical director of the hospital's trauma and critical care unit, said: "This is about as good as good can get."
Dr Michael Lemole, chief of neurosurgery, added: "We're very encouraged. We are still in critical condition. Brain swelling at any time can take a turn for the worse. But I am cautiously optimistic."
In their press conference, the surgeons said they had treated 11 other patients in the wake of the shooting, one of whom - nine-year-old Christina Taylor Green - they were unable to resuscitate.
Five patients remain in serious condition and one has been discharged. Six surgeries were performed.
Jared Loughner has so far been charged with one count of attempted assassination of a member of Congress, two of first degree murder and two of attempted murder.
A search of his home revealed a safe which held messages carrying the words "I planned ahead", "My assassination" and the word "Giffords", court documents said.
FBI director Robert Mueller called the shootings "an attack on our institutions and our way of life".
He also said it appeared that Jared Loughner had attended a public event held by Ms Giffords in 2007.
Mr Mueller said "all logical precautions are in place to best ensure the safety of other public officials", although he added: "There is no information at this time to suggest any specific threat remains."
Police had released a photograph of a second man they wanted to question, but Pima County Sheriff's Deputy Jason Ogan said the man had been cleared of any involvement - he was a cab driver who drove the gunman to the grocery store.
Mr Ogan said the man had gone into the store because the gunman apparently had not paid his fare, the Associated Press news agency reported.
Politicians have expressed shock at the attack, with President Obama calling it a "tragedy for our entire country".
Former Alaska Governor Sarah Palin, a conservative Republican, had placed Ms Giffords on a list of politicians she wanted to remove from office in November's mid-term polls.
Ms Giffords had pointed to the "crosshairs of a gun sight" that Mrs Palin had used on her list, adding: "When people do that, they have to realise that there are consequences to that action."
Mrs Palin has issued a statement offering her condolences to the families of Ms Giffords and the other victims of the attack.
The attacker struck as Ms Giffords held one of her regular open-invitation meetings - which she called "Congress on your corner" - with her constituents outside the Safeway supermarket in Tucson at around 1000 (1700 GMT) on Saturday.
Eyewitnesses say the gunman approached Ms Giffords and shot her at close range.
The attacker then fired some 20 shots indiscriminately before being overpowered by members of the crowd as he attempted to reload a semi-automatic Glock pistol.
He was then hauled away by police.
On Sunday police released tapes of emergency 911 calls made at the time of the attack. In one a caller says: "I see the man that was caught shooting was held down by some other... people. They took away his gun and they're holding him down so he can't do anything else."
Various former classmates have described Jared Loughner as "obviously disturbed" and a loner who had posted a number of anti-government videos and messages on social networking websites.
Shortly before the attack he had posted: "Goodbye friends. Dear friends, don't be mad at me."
Ms Giffords, who represents the eighth district of Arizona in the House of Representatives, is married to space shuttle astronaut Mark Kelly.
Described as a "a rising star" in the Democrats with hopes of eventually winning the Arizona Senate seat, she has served on several congressional committees, including those covering the armed services and foreign affairs, and is a member of the "blue dog" group of centrist Democrats.
All of next week's legislative debates in the House have been postponed.