Will the shooting change how politicians deal with the public?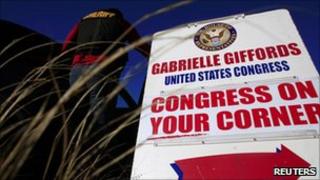 Gabby Giffords was doing nothing unusual on the Saturday morning she was shot.
She was doing exactly what hundreds of politicians across the country do each week - meeting constituents, shaking hands, kissing babies, answering questions, talking policy.
Ms Giffords' event was called Congress on Your Corner. Locals were encouraged to come and meet their representatives and air their concerns.
She had done such events numerous times in the past. For her, and for politicians both here and abroad, such events are the cornerstone of representative democracy.
Ms Giffords did not have a security detail. In Congress only the leaders of the Senate and House of Representatives have personal guards.
Rank and file members have been given security guards only in cases of credible threats against them, and even then the detail is usually assigned for a designated time period.
The president, vice-president and senior cabinet members including Secretary of State Hillary Clinton have secret service protection at all times.
The official buildings on Capitol Hill are well secured with a strong police presence. But American politicians these days are spending more and more time in their districts, doing public events.
Money pressure
Twenty years ago, it was common for members of Congress to move their families to Washington and make a home there their primary residence.
They would return to their districts with some regularity, particularly as election season approached, but their focus was on their duties in Washington where they spent most of their time.
But in recent years, running for office in America has become an extraordinarily expensive undertaking.
Members of Congress spend more and more time raising money to finance their election campaigns, especially members of the House of Representatives as they face re-election every two years.
Mostly, they do this in their home districts which requires them to be more of a constant presence there.
The vast majority of congress members only spend time in Washington on the weeks that Congress is in session - usually around 20-25 weeks per year.
They mostly fly in early on Monday mornings or late on Sunday evenings, and head back to their districts on Thursday nights, as Congress rarely sits on Fridays.
Nasty campaign
Ms Giffords office felt this pressure to raise funds in her district acutely. She was one of a small percentage of members whose seats are in genuine swing districts.
These days her traditionally Republican seat has turned purple - it's neither fully Democratic (blue) nor Republican (red). In the 2010 midterms, she fought off a tough challenge from a Tea Party-backed candidate, winning by a very slim margin.
Before the election she spent an enormous amount of time in her district, meeting with voters and holding public events.
Her 2010 campaign cost $4.2m (£2.7m), which she mostly spent responding to a barrage of negative advertising.
One particularly nasty ad alleged that her husband wouldn't even vote for her. But in fact he couldn't vote for her - as an active duty member of the military he was registered to vote in a different district where his base is located.
'Physical isolation'?
Veteran political reporter Howard Fineman believes that the shooting will indelibly change how politicians interact with constituents.
"The shooting of Gabrielle Giffords is a watershed event in many ways, some of which we cannot yet know, but one of the clearest and simplest is this: Congress and its members are about to be permanently quarantined, physically isolated, from the people it and they represent," he wrote on the Huffington Post website on Saturday.
Representative Jason Chaffetz, whose Capitol Hill office is next door to Ms Giffords', told Politico that members struggle to balance accessibility to the public with the "real concern that there's a freak out there that will do the unthinkable".
Maxine Waters, who has represented a California district since 1991, told Politico that she and her peers will need to do some serious planning about how they interact with the public.
"We cannot be in a situation where we fear holding a town hall meeting or gathering at the most grassroots level," she said.
It is not yet clear what implications the shooting will have on the day-to-day security of US politicians. Their jobs depend in part on being out amongst the public, answering questions, promoting policies and being held accountable for their actions.
But one thing is certain - they'll each take a deep breath before stepping on stage at their next town hall meeting.