US summons Tunisia ambassador over handling of protests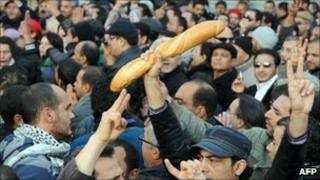 The US state department has summoned Tunisia's ambassador to Washington to express concerns about protests in the North African country.
The state department said officials had encouraged the Tunisian government to ensure civil liberties were protected.
They also raised the issue of what they described as the government's apparent interference with the internet and social media sites.
The unrest erupted last month over unemployment and a lack of freedoms.
State department spokesman PJ Crowley said the Tunisian government was asked to respect people's right to assemble peacefully.
But Mr Crowley also called for restraint on both sides, saying government websites had been hacked.
Another senior official said that Washington was looking at the most effective way to respond to the unrest and get the results it wanted.
But BBC state department correspondent Kim Ghattas said the official did not spell out what those results were.
Arrests
At least one demonstrator died when the security forces opened fire on the protests, which are being described as the most widespread and violent in more than a decade.
The demonstrations began after a man set fire to himself on 17 December in the central Sidi Bouzid region to protest against the police confiscating fruit and vegetables that he was selling without a permit.
He died on Tuesday, while another man is reported to have electrocuted himself as part of the protests.
Late on Thursday, Tunisian police arrested a rapper, Hamada Ben-Amor - who had composed a song critical of President Zine El Abidine Ben Ali, who came to power 23 years ago - and at least one blogger.
Demonstrations are rare in Tunisia, where there are tight controls aimed at preventing dissent.
The unrest has been linked to frustrations with the president and the ruling elite, as well as to concerns over jobs and living costs.