New Orleans fish market struggles after Gulf spill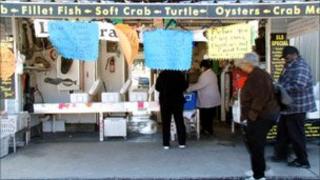 Ruth Graves makes a point of thanking all her customers for supporting what she calls "seafood people".
She has been selling shrimp, crabs and fish at the Westwego market just outside New Orleans for three decades, but her family is now in a desperate situation.
"This is my only livelihood," says Ms Graves, 51. "My husband is diabetic so he can't work, so it's just me supporting the whole family."
In order to survive, the Graves family has sold its car and refrigerator and is trying to sell its home.
All this has happened in the nine months since the Deepwater Horizon rig explosion, which in April killed 11 oil workers and caused one of the worst environmental disasters in US history.
Eerie quiet
A new report from a presidential commission criticises risky cost-cutting decisions by the companies involved in the oil drilling - BP, Halliburton and rig owner Transocean - and cites inadequate government oversight of the industry.
But that means little to people like Ruth Graves.
"It's just rough," she says, smiling and warmly greeting the occasional customer.
"It's rough trying to keep this going. What is wrong with these companies, when a person's life is not more important than a dollar?"
The Westwego seafood market once bustled with locals and tourists keen to sample Louisiana's world famous seafood. It was first established in 1870, and many of its vendors bring their catch straight from the Gulf of Mexico to the stalls.
Now the market is eerily quiet, and those who do come often ask how safe the catch is.
It is a question that Kim Palmasano has often been asked.
Trade was so bad for her that she shut her shop for five months, and although she has reopened, she says business is down by at least 50%.
"Basically, our fishing community is shut down right now," says Ms Palmasano, whose husband owns four shrimp boats.
Like many here, she battles the perception that seafood from the Gulf is tainted. The few customers that come here are afraid, she says.
"It's hard to make sales," she says. "They're not buying large amounts like they used to. They're coming in and buying one or two pounds of shrimp because they're basically scared that it could be contaminated."
'Let down'
The presidential commission's findings may have far-reaching consequences for the oil industry in Louisiana and across the Gulf Coast, but for those still trying to get by in the wake of America's worst oil spill it is of little consequence.
Many say they still struggle to get compensation from BP, which has established a $20bn fund viewed by many as too slow to pay out and unfair.
The true economic impact of what has happened on the Gulf Coast over the past nine months is hard to quantify.
It is almost impossible to tally up how many businesses have closed down, how many homes have been repossessed and just how many people have simply given up and left the area.
Even as blame is apportioned and multibillion dollar corporations try to protect their shattered images and blame one another, the people across this region feel let down and afraid for the future.
In the long term, most will plough on - the spirit that got them through Hurricane Katrina abides across the affected states - but even that may not be enough to save them all.