Profile: William Daley, White House chief of staff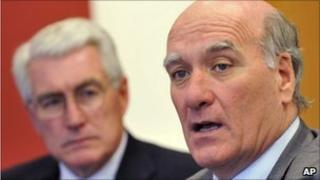 William Daley was born into one of America's great political families.
His father and his brother, both named Richard, each served as mayor of Chicago, making them the de facto head of that city's powerful Democratic political machine.
The elder Richard Daley is widely credited with using his political might to help John F Kennedy secure the presidency.
His youngest son William, often called Bill, was called on in 2011 to play a pivotal role in helping President Barack Obama position himself for a second term in office, at a critical time in his presidency.
But he left just a year later, saying he wanted to spend more time with his family, amid rumours he had not meshed particularly well with the president's inner circle of political advisers.
Mr Daley, 62, may be of solid political stock, but his primary career focus thus far has been business.
He has previously been appointed to prominent political positions, serving as President Bill Clinton's Commerce Secretary for over three years and as the chairman of Al Gore's unsuccessful presidential campaign in 2000.
But most of his adult life has been spent in the private sector. Mr Daley worked for banking giant JP Morgan Chase, directing their operations in America's Midwest.
Both a lawyer and a banker, Mr Daley had a successful stint working for a Wall Street hedge fund run by an associate from the Clinton administration.
He worked for a short time as a lobbyist for a communications firm in Texas before returning to the banking sector in Chicago.
He is considered by many to be a skilled political operator despite never having held public office. He closely advised his brother when he was Chicago's mayor.
He is a respected centrist voice on the financial crisis and economics, but has also won the support of Howard Dean, who is considered a leader of the Democratic party's left wing.
Regardless, Mr Daley was chosen primarily for his private sector credentials.
New chapter
Mr Obama has had a tense relationship with the US business community, and advisers hoped that Mr Daley's appointment would help smooth the waters.
Advisers anticipated that Mr Daley's appointment would not only signal to the business community that a new chapter was beginning, but that he would bring a raft of personal relationships with bankers and fund managers that would aide the administration's dealings with the financial sector.
Along with his high-profile position at JP Morgan Chase, Mr Daley had board positions at Boeing and pharmaceutical giant Abbott Laboratories. He is also on the Council for Foreign Relations.
Unlike his predecessors Rahm Emanuel and Pete Rouse, Mr Daley did not have a close personal relationship with the president when he was appointed chief of staff. He was a relative outsider in Mr Obama's tight-knit inner circle.
But he did know several of Mr Obama's Chicagoan inner circle, including Mr Emanuel and senior adviser David Axelrod, who is said to have first suggested Mr Daley for the role.
Michelle Obama once worked in the administration of Mayor Richard Daley. He is reported to be close to Secretary of State Hillary Clinton, National Security Adviser Tom Donilon and the replacement economic adviser for Larry Summers, Gene Sperling.
A quiet and private man, Mr Daley is said to be a calm, confident and loyal operator.
Former chief of staff Mr Emanuel left his post to run for mayor of Chicago after Mr Daley's brother Richard announced he would not seek another term.