Obama names William Daley as White House chief of staff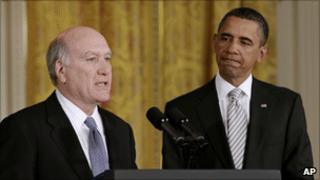 President Barack Obama has named bank executive and former commerce secretary William Daley as the next White House chief of staff.
He replaces interim chief of staff Pete Rouse, who is to remain at the White House as a counsellor to Mr Obama.
"I am convinced he will help us in our mission of growing our economy," Mr Obama said at the White House.
Analysts say Mr Daley will help the president repair relationships with big business.
"He's led major corporations. He possesses a deep understanding of how jobs are created and how to grow our economy," Mr Obama said of Mr Daley, who served as commerce secretary under former President Bill Clinton and is an executive with JPMorgan Chase.
'Genetic trait'
Mr Daley, 62, is also a Chicago native and the son and brother of longtime mayors of that city, where Mr Obama spent most of his adult years before moving to Washington in 2005.
His brother Richard Daley is soon to retire as mayor of Chicago, and Mr Obama's first chief of staff, Rahm Emanuel, also a Chicagoan, left the White House three months ago to run for the job. Mr Emanuel was replaced temporarily by Mr Rouse.
On Thursday, Mr Obama quipped that Mr Daley's understanding of politics was "a genetic trait".
The announcement came a day after White House press secretary Robert Gibbs told his staff that he intends to leave his post by the end of February.
Mr Obama is reported to be considering numerous changes to his staff as he begins to prepare for the 2012 elections and to confront the new Republican majority in the House of Representatives.
Among other changes in the Obama administration, adviser David Axelrod will soon be leaving the White House as well as both of Mr Obama's deputy chiefs of staff, Jim Messina and Mona Sutphen.