Elizabeth Edwards leaves John Edwards out of her will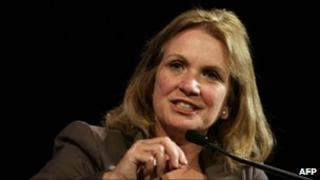 Elizabeth Edwards, the late wife of former presidential candidate John Edwards, has left him out of the will she signed before she died last month.
The document, dated 1 December, names Catharine, Ms Edwards' 28-year-old daughter, as the executor of the will.
Mr Edwards and his wife separated one year ago after revelations he had fathered a child during an affair.
Elizabeth Edwards died at the age of 61 on 7 December after a long battle with breast cancer.
Ms Edwards has left her personal effects, furniture, cars and other items to be divided among Catharine, known as Cate, and Ms Edwards' two younger children, 12-year-old Emma Claire and 10-year-old Jack.
"Those are items that have sentimental attachment, like a grandmother's engagement ring or antiques she'd want to go only to her children and no-one else," said estate planning attorney Andrea Chomakos.
The documents valued Elizabeth Edwards' estate at $496,000 (£320,000) in cash, household furnishings, vehicles and ownership in businesses.
She also owned real estate worth $1m.
Ms Edwards was originally diagnosed with breast cancer in 2004. The disease then went into remission before returning during the 2008 presidential campaign.
She wrote two best-selling books, called Resilience and Saving Graces, about her illness and her marriage.