White House spokesman Robert Gibbs to step down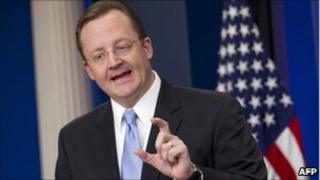 White House press secretary Robert Gibbs has told his staff that he intends to leave his post by the end of February.
Mr Gibbs will continue to advise the White House and the president's re-election campaign as an outside consultant.
Mr Gibbs has worked for Mr Obama since he was a senator, and is considered a close confidant. His departure comes amid a wider White House shake up.
His successor has not been announced.
In a statement, Mr Obama called Mr Gibbs an "effective advocate" and said that it was natural for him to want to "step back, reflect and retool" after six years working for him.
"That brings up some challenges and opportunities for the White House - but it doesn't change the important role that Robert will continue to play on our team," Mr Obama said in the statement.
Mr Obama is reported to be weighing numerous changes to his staff, including appointing a new chief of staff, as he begins to prepare for the 2012 elections.
Mr Obama also faces a new dynamic in Congress with Republicans taking control of the House of Representatives and increasing their numbers in the Senate. Advisers say this necessitates a change of strategy.
Mr Gibbs's replacement is expected to be announced in the next two weeks.
Vice-President Joe Biden's press secretary and former Time magazine correspondent Jay Carney and White House deputy press secretary Bill Burton are widely considered the frontrunners for the position.
The New York Times reports that Mr Obama has narrowed his field of candidates for the chief of staff position to his interim chief Pete Rouse and William Daley, who served as commerce secretary in the Bill Clinton administration.
Mr Daley is the brother of Chicago mayor Richard Daley, a heavyweight in Democratic politics.
Mr Obama is expected to announce a replacement for National Economic Council director Larry Summers, who returned to his teaching position at Harvard, on Friday.
Commentators anticipate that Gene Sperling, another former Bill Clinton adviser who currently works for Treasury Secretary Tim Geithner, will be appointed to the position.
Paul Volcker, chairman of the president's Economic Recovery Advisory Board, will also step down. The fate of the advisory board, which was established in February 2009 for a two year period, is unclear.
David Axelrod, a senior adviser and close friend of the president, has told reporters that he intends to leave the White House in the coming months and return to Chicago to work on the re-election campaign.
David Plouffe, Mr Obama's former campaign manager, is expected to replace Mr Axelrod in the White House.
Jim Messina, another senior aide, will likely join Mr Axelrod to run the Chicago-based campaign effort.