'Military recruitment base bomber' charged in Maryland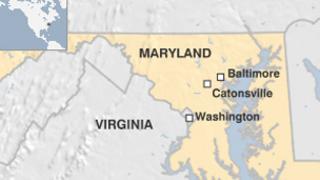 A man has been charged with attempted murder and attempted use of a weapon of mass destruction for allegedly plotting to blow up a military recruitment centre near Baltimore with a car bomb.
Antonio Martinez, from the US state of Maryland, told the FBI in October he was seeking to kill military personnel, court documents said.
Officials said the bomb used in the plot was a government-supplied fake.
Mr Martinez, 21, also known as Muhammad Hussain, was arrested in Baltimore.
US justice department spokesman Dean Boyd said the suspect had been monitored by law enforcement officers for months as part of a "sting" operation.
He had told an FBI source on Facebook that all he thought about was jihad, court documents said.
Mr Martinez, a construction worker who recently converted to Islam, appeared in court on Wednesday and was ordered to be held until a hearing scheduled for Monday.
The suspect was believed to have been planning to attack a recruiting base in a shopping centre in Catonsville, in the state of Maryland, between the cities of Baltimore and Washington DC.
There is currently no link between the failed plot by Mr Martinez and prior attempts on military recruitment posts, officials said.
The operation leading to Mr Martinez's arrest bears similarities to the way officers foiled a recent alleged plot to plant a bomb at a Christmas tree lighting ceremony in Oregon.
Last month officers arrested Somali-born Mohammed Osman Mohamud, 19, after he reportedly made a telephone call he thought would set off the bomb in the centre of Portland.
The bomb was also a fake supplied by agents as part of a sting operation.