Canadian man charged over crossbow killing in Toronto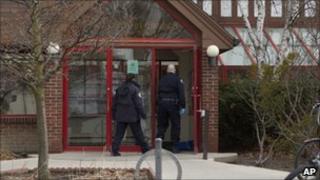 A Canadian man has been charged with first-degree murder after allegedly fatally shooting his father with a crossbow in the city of Toronto.
Zhou Fang appeared in court one day after Si Cheng, 52, was shot in the back outside a busy library.
Police later arrested the 24-year-old. The suspect was reportedly seen by shocked onlookers running with a crossbow and trying to escape in a van.
The judge ordered Mr Fang to be held without bail.
"The use of a crossbow is definitely a unique case in Toronto," said Toronto police spokesman Tony Vella, adding that Mr Cheng had been pronounced dead at the scene.
Police did not say what sparked the alleged incident between the two family members, nor did they confirm whether any witnesses saw the weapon before the attack.
The library was busy with children and parents taking part in after-school activities at the time of the incident, Toronto Public Library spokeswoman Anne Marie Aikins told the Associated Press news agency.
The only crossbows prohibited in the country are ones which can be fired with one hand and measure 19in (50cm) or less in length, according to the Royal Canadian Mounted Police.
A licence or registration certificate is not required to own other types of crossbows.