Colin Powell joins push on New Start nuclear treaty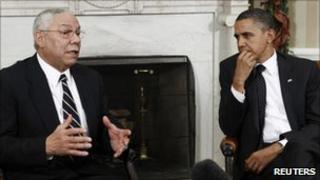 Former Secretary of State Colin Powell has called on the US Senate to ratify a new nuclear arms treaty with Russia.
"I hope that the Senate will move quickly," Mr Powell said, after meeting President Barack Obama. He joins three other former Republican secretaries of state in backing the deal.
The New Start treaty would reduce both countries' nuclear arsenals and allow each to inspect the other's facilities.
Some Republicans have argued it should not be voted on this year.
Republican Senator Jon Kyl has pledged to block action on the pact during the lame duck session of Congress, the time between November's congressional elections and the January start of the new Congress.
Other Republican senators have argued any action on the arms pact can only come after the Senate addresses an extension of Bush-era tax cuts and after Mr Obama addresses issues surrounding the modernisation of the US nuclear arsenal.
'More dangerous world'
Mr Powell, a retired four-star Army general, said failure to ratify the treaty soon could put the US in a vulnerable position.
"When you have uncertainty in the area of nuclear weapons, that's a much more dangerous world to live in," he said.
Mr Powell added that he believes Mr Obama has adequately addressed Republican concerns over modernisation and verification systems.
The former secretary of state is due to join his Republican predecessors George Shultz, James Baker and Henry Kissinger in writing a piece endorsing the treaty in Thursday's edition of the Washington Post newspaper.
Meanwhile, Russian Prime Minister Vladimir Putin warned in an interview with the CNN news channel on Wednesday that Moscow would probably build up its arsenal if the treaty failed.