Polygamist sect leader Warren Jeffs arraigned in Texas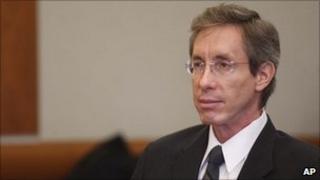 Polygamist sect leader Warren Jeffs has been arraigned in a courtroom in Texas on charges of sexual assault and bigamy after being extradited from Utah.
Mr Jeffs, who was not asked to enter a plea, told the judge he needed more time to find a lawyer.
The 53-year-old was indicted more than two years ago, after a raid on a ranch where a breakaway Mormon sect allegedly married young girls to church leaders.
He is waiting a retrial in Utah after a conviction there was overturned.
The new trial in Texas, which relates to abuse claims at the Yearning For Zion Ranch in Eldorado, is scheduled to begin on 24 January.
Mr Jeffs, the head of the Fundamentalist Church of Jesus Christ of Latter-day Saints, was convicted by a Utah court in August 2007 of two counts of conspiracy to rape.
That conviction was overturned by the Utah Supreme Court in July this year.
Utah officials said he could be tried in Texas before the retrial in their state took place.