US extends oil drilling ban in Gulf of Mexico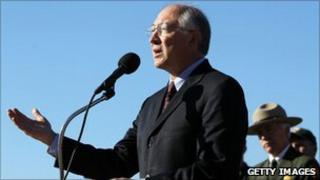 President Barack Obama's administration is to maintain a ban on off-shore oil and gas drilling in the eastern Gulf of Mexico and parts of the Atlantic coast.
The decision reverses a plan to open up new areas announced by Mr Obama in the spring, just before the BP oil spill.
Wednesday's move sparked protests from oil firms and their allies in Congress.
Announcing the ban, which will last until 2017, Interior Secretary Ken Salazar cited the need for "caution and focus" and stricter regulation.
"Our revised strategy lays out a careful, responsible path for meeting our nation's energy needs while protecting our oceans and coastal communities," he said in a statement.
'Short-sighted'
The interior department said that the western and central parts of the Gulf of Mexico, as well as Arctic regions, would still be considered for oil and gas development.
Representative Doc Hastings, the Republican likely to be chairman of the House natural resources committee in the next Congress, criticised the decision to maintain the ban on other areas.
"This plan to lock up vast portions of America's offshore energy resources is short-sighted and will lead to long-term job impacts, economic harm and increased reliance on foreign energy from dangerous and hostile countries," he said, quoted by the Associated Press.
In March, Mr Obama and Mr Salazar called for new oil and gas exploration in the eastern Gulf of Mexico and areas of the Atlantic.
Under those proposals, drilling would have been allowed off Virginia and considered off much of the rest of the Atlantic coast, overturning moratoriums on exploration put in place in the 1980s.