Idaho prison guards 'filmed watching inmate attack'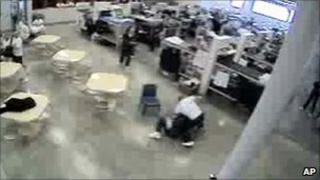 Prison surveillance cameras in Idaho have captured footage of one inmate beating another prisoner, while guards looked on, AP news agency has reported.
The man being attacked, Hanni Elabed, appears to bang on a guard station window for help, the video obtained by AP shows, but guards do not intervene.
Questions are now being raised as to whether the Idaho Correctional Center regularly allows inmate violence.
The firm running the jail told AP it was co-operating with an investigation.
The video obtained by the Associated Press, which it says has been verified by someone familiar with the case, appears to show at least three prison guards watching as Elabed is knocked unconscious by another prisoner.
About two minutes after the prisoner decides to end the beating, correctional officers emerge from behind a metal door to place him in handcuffs, the footage shot in January shows.
As a result of the attack, Elabed suffered bleeding inside his skull and spent the following three days in a coma, according to AP. He has reportedly been left with brain damage.
'Gladiator school'
Idaho's top federal prosecutor contacted AP hours after the footage was published on Tuesday, and said the Federal Bureau of Investigation (FBI) had been investigating whether guards at the Idaho Correctional Center violated the civil rights of inmates, AP reported.
The investigation into the prison, which is run by the Corrections Corporation of America (CCA), includes concerns over multiple assaults between inmates, including attacks on Elabed, US attorney Wendy Olson told the news agency.
CCA, the largest private prison company in the US, said it was co-operating with federal agents in the investigation and that it was disappointed by the release of the footage.
"Public release of the video poses an unnecessary security risk to our staff, the inmates entrusted to our care and ultimately to the public," CCA said in a statement.
The American Civil Liberties Union said the video supported claims made in a federal class action lawsuit filed by the ACLU in March that the prison fostered a "culture of rampant violence".
Prisoners have filed a number of lawsuits against the prison in the past, saying the facility covers up the attacks by denying the prisoners medical treatment.
The Idaho jail has been nicknamed "Gladiator school" by its inmates because of its reputation for violence.
CCA oversees about 75,000 inmates in more than 60 facilities in 19 US states under contracts with the federal government.