Federal judge blocks Oklahoma Sharia law ban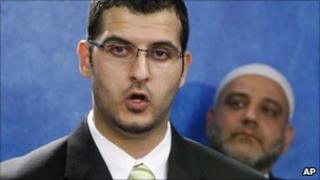 A US federal judge has stopped Oklahoma putting into effect a constitutional amendment to bar courts from considering Islamic law in judgements.
Judge Vicky Miles-Lagrange granted an injunction against the certification of the results of State Question 755.
She said she needed more time to decide the merits of a complaint by a Muslim, who argued that the ban would violate his right to freedom of religion.
The ban was approved by 70% of voters in a referendum earlier this month.
Muneer Awad, the head of the Council on American-Islamic Relations (CAIR) in Oklahoma, filed a suit saying the amendment would affect every aspect of his life, including his will and testament.
In her ruling on Monday, Judge Miles-Lagrange said Mr Awad had shown he would have suffered an "injury, specifically, an invasion of his First Amendment rights" if the results of Question 755 were certified.
"Plaintiff has sufficiently set forth a personal stake in this action by alleging that he lives in Oklahoma, is a Muslim, that the amendment conveys an official government message of disapproval and hostility toward his religious beliefs, that sends a clear message he is an outsider, not a full member of the political community, thereby chilling his access to the government and forcing him to curtail his political and religious activities," she explained.
Mr Awad said: "We applaud today's ruling and welcome the opportunity it offers to demonstrate that Oklahoma's Muslim community simply seeks to enjoy the civil and religious rights guaranteed to all Americans."
The author of the amendment, Republican state representative Rex Duncan, has said it is not intended as an attack on Muslims, but is rather a "pre-emptive strike" preventing Sharia law being applied.