Key reaction to Wikileaks cables revelations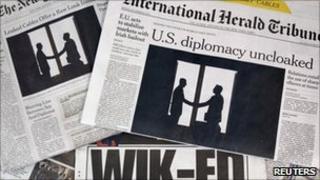 More than 250,000 cables sent by US embassies have been revealed by the Wikileaks website.
They include reports of some Arab leaders urging the US to attack Iran and end its nuclear weapons programme.
In another cable, the US Secretary of State Hillary Clinton instructs diplomats to collect personal data about key officials at the UN.
Other lighter-hearted revelations range from the Moscow embassy describing Russian President Dmitry Medvedev as playing Robin to Prime Minister Vladimir Putin's Batman to the Tripoli embassy saying Colonel Muammar Gaddafi "relies heavily" on his Ukrainian nurse, a "voluptuous blonde".
Here is a selection of comments from world leaders and officials in response to the Wikileaks revelations, with the source afterwards in brackets.
The US White House
"Such disclosures put at risk our diplomats, intelligence professionals and people around the world who come to the United States for assistance in promoting democracy and open government.
"By its very nature, field reporting to Washington is candid and often incomplete information. It is not an expression of policy, nor does it always shape final policy decisions.
"Nevertheless, these cables could compromise private discussions with foreign governments and opposition leaders, and when the substance of private conversations is printed on the front pages of newspapers across the world, it can deeply impact not only US foreign policy interests, but those of our allies and friends around the world." (Associated Press)
The US State Department spokesman PJ Crowley
"Our diplomats are just that, diplomats. They collect information that shapes our policies and actions. This is what diplomats, from our country and other countries, have done for hundreds of years." (AP)
US Representative Peter Hoekstra
The senior Republican on the House Intelligence Committee called the release very damaging to US interests.
"The catastrophic issue here is just a breakdown in trust," he said.
Many other countries - allies and foes alike - are likely to ask, 'Can the United States be trusted? Can the United States keep a secret?' (AP)
Israeli Prime Minister Benjamin Netanyahu
"For the first time in modern history, there is not an inconsequential agreement in Europe and in the region - in Israel and countries in the region - that the main threat stems from Iran, its plans to expand, and its plans to arm itself.
"This was exposed in a very persuasive way in the latest disclosures. Although this was known [before], it had not been said directly." (BBC)
Chief Palestinian negotiator Saeb Erekat
Mr Erekat said some of the cables showed Israel was trying to discredit Palestinian President Mahmoud Abbas, "which raises a big question mark over the level of trust between us and them". (Agence France-Presse)
Iranian President Mahmoud Ahmadinejad
"The documents that they released are a mischief. We do not see any value in them. This act is worthless," he said at a news conference broadcast live on state TV.
"These documents are prepared and released by the US government in a planned manner and in pursuance of an aim. It is part of an intelligence warfare and will not have their desired political impact.
"We are friends with the regional countries and mischievous acts will not affect relations," he said. (AFP)
Saudi Arabian government
Official Saudi government spokesmen were not immediately available but a Saudi government adviser who asked not to be identified said that the leaks were "very negative".
"It's not good for confidence-building," the adviser said. (AFP)
Italian Foreign Minister Franco Frattini
The Wikileaks release is the "9/11 of world diplomacy", in that everything once accepted as normal has now changed. (AP)
Pakistani Foreign Ministry spokesman Abdul Basit
The "extremely negative reports" of Pakistan-Saudi relations attributed to Wikileaks were "misleading and contrary to facts".
"It is quite evident that these mischievous reports reveal the utter inadequacy of the author to grasp the essence of the Pakistan-Saudi relationship." (Associated Press of Pakistan)
Iraqi Foreign Minister Hoshyar Zebari
Disclosure "unhelpful and untimely". (AP)
Russian presidential spokesman
The Kremlin finds "nothing interesting or worthy of comment" in the leaks, and "fictitious Hollywood characters hardly need any comment" - a reference to Putin and Russian President Dmitry Medvedev being likened to Batman and Robin. (Interfax)
David Field, a spokesman for British Prime Minister David Cameron
"We work very closely with the US and we will continue to do so."
But "it's important that governments are able to operate on the basis of confidentiality of information". (AP)
French government spokesman and budget minister Francois Baroin
"Authority and democratic sovereignty are threatened by such practices [the Wikileaks release]. If there was such a thing as a French Wikileaks, we would have to be inflexible [in dealing with it]." (Reuters)
Afghan presidential spokesman Waheed Omar
"So far as the contents relating to Afghanistan in the leaks is concerned there is not much in the document that might surprise us. And we don't see anything substantive in the document that will strain the relationship. But still we know there is a lot more to come, so we will wait and see what else comes out." (BBC)