Jury convicts Tom DeLay in money laundering case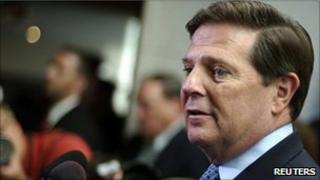 A jury in the US state of Texas has convicted former US House Majority Leader Tom DeLay on charges of illegally funnelling corporate money to Texas candidates in 2002.
Jurors deliberated for 19 hours before returning a guilty verdict.
DeLay, who was once one of the most powerful Republicans in Congress, now faces up to life in prison.
Lawyers for the former congressman said he had acted properly and no corporate funds had gone to the candidates.
The jury found DeLay guilty of money laundering and conspiracy to commit money laundering.
It is illegal in Texas for corporate money to be directly used for political campaigns.
Appeal planned
Prosecutors said DeLay, who was nicknamed "the Hammer" for his forceful style in Congress, had collected $190,000 (£118,000) through a group he had started and had piped the money into the Washington-based Republican National Committee to help Republican state legislative candidates.
They also said the money helped Republicans take control of the Texas House by sending Republicans in the state to Congress in 2004.
But DeLay's lawyers said the swap was legal and that no corporate funds had gone to the candidates.
The former congressman's legal team said DeLay had only lent his name to the group and had little involvement in how it was run.
They plan to appeal against the verdict.
"This is an abuse of power. It's a miscarriage of justice, and I still maintain that I am innocent. The criminalisation of politics undermines our very system and I'm very disappointed in the outcome," DeLay said to reporters outside the courtroom.
DeLay was forced to resign his leadership post because of the indictment and later stepped down as a congressman.
Sentencing for the former lawmaker, who remains free on bail, is due to begin on 20 December.
He has chosen to be sentenced by Senior Judge Pat Priest.