Barack Obama: I don't think about Sarah Palin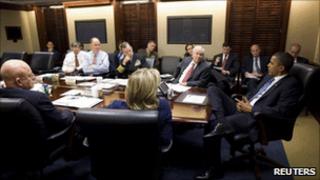 President Barack Obama has said he does not think about Republican former Alaska Governor Sarah Palin, a possible contender for his job in 2012.
In an interview, Mr Obama acknowledged her popularity among Republicans and said he "respected those skills".
But he told ABC television: "I spend most of my time right now on how I can be the best possible president."
Mrs Palin, in the midst of a national book tour, said recently she could beat Mr Obama in the 2012 election.
But a recent poll showed Mr Obama comfortably leading Mrs Palin in a hypothetical 2012 match-up.
"My attitude has always been, from the day I started this job, that if I do a good job and if I'm delivering for the American people the politics will take care of itself," he said.
"If I falter and the American people are dissatisfied, then I'll have problems."
Diminished strength
Mr Obama's remarks came three weeks after his acknowledged "shellacking" in the mid-term elections.
Mr Obama's Democratic party lost control of the House of Representatives and saw its strength in the Senate diminished, threatening the president's ability to enact his legislative agenda.
Asked to comment on Tuesday's military clash between North and South Korea, Mr Obama told ABC: "South Korea is our ally, it has been since the Korean War, and we strongly affirm our commitment to defend South Korea as part of that alliance."
He said he would not speculate about a military response but said he would consult with South Korean President Lee Myung-bak on the matter.
On Wednesday morning, the US deployed an aircraft carrier fleet to Korean waters to join South Korean forces in military exercises.