Afghanistan war: US says violence reaches all-time high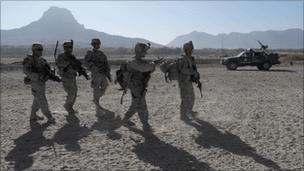 Violence in Afghanistan has reached an all-time high, with clashes up fourfold since 2007, the Pentagon has said.
In a twice-annual report to the US Congress, the Pentagon said progress had been "uneven", with only modest gains against the Taliban insurgency.
The Pentagon also reported gains in security, governance, and development in key areas.
But it warned the Taliban was exploiting perceptions Nato countries would soon withdraw combat forces.
In a report covering the period between 1 April and 30 September, the Pentagon attributed much of the increase in violence to the growth in the coalition force after US President Barack Obama's escalation this year.
"Efforts to reduce insurgent capacity, such as safe havens and logistic support originating in Pakistan and Iran, have not produced measurable results," the report states.
"The insurgency has proven resilient with sustained logistics capacity and command and control."
But it cited evidence Nato counter-insurgency efforts had "localised" effects in areas of Helmand and Kandahar provinces, and said the Nato strategy had yielded "cumulative effects".
"Security is slowly beginning to expand," the report states.
"Indications of local resistance to insurgents continue to emerge alongside positive indications, such as newly opened schools and police stations."
The Pentagon also said Taliban fighters were exploiting moves among Nato countries to withdraw combat forces.
Canada is due to pull its combat forces out in 2011, and President Barack Obama has also said he will begin removing US troops in July 2011, with security duties to be turned over to Afghan police and army units.
"The Taliban's strength lies in the Afghan population's perception that coalition forces will soon leave, giving credence to the belief that a Taliban victory is inevitable," the report says.
"The Taliban is not a popular movement, but it exploits a population frustrated by weak governance."
America would deny it is going to leave, says the BBC's Mark Mardell in Washington, but a handover by collation forces in four years' time is exactly what was agreed at the Nato summit last weekend.
Very indirectly, the US defence department is suggesting the strategy of American, British and other politicians is the cause of the Taliban's success, our correspondent adds.
Approximately 97,000 US troops and 48,800 troops from other countries are in Afghanistan at present.
Since January 2009, when Mr Obama took office, the US has more than tripled the number of civilians in the country, to 1,100, including diplomats, criminal investigators and drug enforcement agents and agricultural experts.