Somali piracy trial: US jurors deliberate over verdict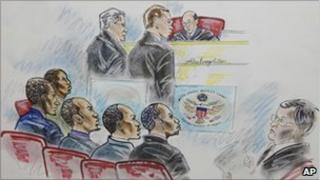 A US jury is deliberating its verdict in the trial of five Somali men charged with piracy and accused of attacking a US Navy ship on 1 April off the coast of east Africa.
Prosecutors say the men attacked the USS Nicholas after mistaking it for a merchant ship.
But lawyers for the men say they only fired their weapons to attract attention and get help.
The case marks the first piracy trial in the US since the Civil War.
Jurors in the case heard over four hours of closing arguments on Monday from the US government and lawyers for the defendants and began their deliberations on Tuesday morning.
The men, who are being tried in Norfolk, Virginia, are charged with 14 counts, including assault with a dangerous weapon, attacking to plunder a maritime vessel and piracy, a charge which calls for a mandatory life term.
Prosecutor John Davis told the court earlier this month the men had confessed when they were first apprehended, adding that they fired assault rifles at the USS Nicholas but fled after sailors returned fire with machine guns.
But lawyers for the defendants say they were fishermen, who had been forced by pirates to approach the ship.
Another Somali man pleaded guilty to piracy in May, but the case did not go to trial.
Ships from several countries around the world have been patrolling the Indian Ocean to fend off increasing attacks by Somali pirates.
There have been calls for international courts to be set up to deal with the piracy problem.