Sarah Palin launches nationwide tour to push new book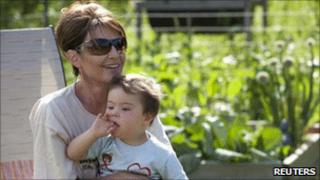 Former Republican Alaska Governor Sarah Palin is launching a nationwide tour to coincide with the release on Tuesday of her new book.
America By Heart: Reflections on Family, Faith, and Flag is released as speculation mounts that Ms Palin will seek to run for president in 2012.
In Arizona, where Ms Palin was to start the tour, a crush of fans waited overnight to get hold of a copy.
But in more liberal Maryland and New York, the launch was met with a shrug.
"She's not afraid to speak the truth, and she comes out and tells it like it really is," Laura Pederson, a native of Phoenix, Arizona, told the AFP news agency, adding that she had been in line since 0400.
Publisher HarperCollins promised that Ms Palin's "reflections on faith, family, and patriotism will read like a bible of American virtues for anyone hoping to understand the truths that lie at the heart of the nation".
The 2008 Republican vice-presidential candidate has already had a bestseller with her first book, Going Rogue.
In an interview published on Sunday in the New York Times Magazine, Ms Palin said she was weighing a run for the presidency in 2012.
And last week, she told ABC television she thought she could beat President Barack Obama.
While she is a hero to the anti-establishment, fiercely conservative Tea Party movement, Ms Palin is seen in general as a polarising figure, and surveys indicate a majority of Americans deem her unqualified for the White House.