Airport security: US seeking privacy-security balance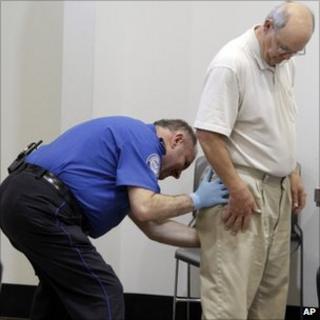 The US airport security agency is "desperately" working to balance travellers' privacy concerns with security needs, the White House said.
Spokesman Robert Gibbs said the controversial new screening would evolve with travellers' input.
Some passengers are objecting to use of revealing full-body scanners and "pat-downs" for those opting out of scans.
This week is one of the busiest for US airports, with millions set to travel for Thursday's Thanksgiving holiday.
At the White House on Monday, Mr Gibbs said President Barack Obama's highest priority was "to ensure that when you or I or others get on to an airplane, that we can feel reasonably sure that we can travel safely".
Earlier, Transportation Security Administration head John Pistole said there would be no short-term changes.
"What I'm doing is going back and looking at, are there less invasive ways of doing the same type of screening?" Mr Pistole told ABC television.
Mr Pistole's and Mr Gibbs' comments came amid growing complaints over the new procedures - revealing full-body scanners and intrusive "pat-downs" for those opting out of scans.
A YouTube video of a shirtless boy being searched at Utah's Salt Lake City airport is renewing criticism of new screening methods.
The student who shot the video said the child appeared unable to keep his arms raised for a pat-down - a search by hand - and the father removed his son's shirt to speed up the search.
The TSA said no-one was being forced to disrobe at airport checkpoints.
'Trade-off'
Travellers who refuse to be screened via new full body scanners - in use at over 60 US airports - must undergo an extensive hand search, which includes touching of the genital region and breasts.
Mr Pistole appeared to row back from a position he stated on Sunday in which he said the TSA had no plans to back away from the procedures.
"We're going to look at how can we do the most effective screening in the least invasive way knowing that there's always a trade-off between security and privacy," he told NBC's Today programme on Monday.
The official said security officials were trying to determine how methods might be changed and still protect against a passenger posing a security threat.
Recent polling suggests a large majority of Americans support the use of full body X-ray machines atairports. But about half of the individuals surveyed in a Washington Post-ABC News poll said more rigorous pat-downs went too far.
"We all wish we lived in a world where security procedures at airports weren't necessary, but that just isn't the case." Mr Pistole said, adding that the alleged attempt by a Nigerian with explosives in his underwear to blow up an aircraft over Detroit happened last Christmas.
'Recalcitrant passengers'
There are also fears that potential protests against the new measures could disrupt the Thanksgiving holiday weekend.
A loosely-organised National Opt-Out day is scheduled for Wednesday - with organisers urging all those against the new screening checks to exercise their right to opt-out of the full body scans in favour of a more time-consuming pat-down check.
Mr Pistole implored passengers not to take delaying actions, saying they would only serve to "tie up people who want to go home and see their loved ones".
Paul Ruden, a spokesman for the American Society of Travel Agents, said: "Just one or two recalcitrant passengers at an airport is all it takes to cause huge delays."
Over the weekend, Mr Obama and Secretary of State Hillary Clinton both spoke out on the issue of airport screening.
Mr Obama told the TSA: "You have to constantly refine and measure whether what we're doing is the only way to assure the American people's safety."
Ms Clinton, speaking on a Sunday morning talk show, said she would not submit to a security pat-down "if I could avoid it".
She added that everyone, "including our security experts, are looking for ways to diminish the impact on the travelling public" and that "striking the right balance is what this is about".
BBC News website readers in the US have been reacting to this story. Here is a selection of their comments:
Of course these measures are totally invasive and they serve no real purpose. Even with all of these TSA checks there are still airborne terror threats, and there always will be. In essence, by letting these things happen we are "letting the terrorists win" because their actions are dictating our lives. Bryce Bullins, Nevada, US
No one is being "forced" to have a full body scan, or a pat-down. If people don't want them, they should stay away from airports and drive or take the train. Derek McQuarrie, Arizona, US
I've been through the new scanners at Logan airport in Boston. Not a pleasant experience but probably better than a pat-down. It's worth emphasising, though, that some of the full body-scanners use X-ray. The dose is low, but X-ray damage is cumulative, so even a low dose is not good news for a frequent flier or a flight attendant. Beth, Massachusetts
The effect of these "security measures" is that air travel is all the time being made more and more inconvenient without improvements to security. Automation and intrusion are being used as substitutes for judgment that is evidently in short supply. The unfortunate end must be that air travel will become ever less attractive at the margin as the "needs" of security become ever more elusive to satisfy. Robert Carr, Detroit, Michigan
The demeanor of the TSA agent makes all the difference. Most TSA agents now go about their jobs, even the too invasive ones, with the demeanor of a pleasant professional. They behave much in the way of a physician doing something unpleasant and it makes all the difference. Sandy Almond, Tennessee, US
I am not opposed to security protocols but these measures go overboard. By going to airports for travel and submitting to these ever increasing security protocols, it means that we all are suspected criminals. Why are we, as tax-payers, paying taxes to support intelligence agencies if they are not able to isolate the real suspects instead of treating everyone as suspects? Maksood, Atlanta, US