Canadian military burns Russell Williams's uniform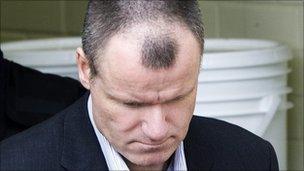 The Canadian military has burned the uniforms, documentation and equipment of ex-colonel Russell Williams, who was convicted of murder and sexual assault.
Williams's clothing was burned on Thursday at CFB Trenton, Canada's largest military base, where the former colonel worked, said Cdr Hubert Genest.
The 47-year-old was sentenced last month to life in prison for two murders and two sexual assaults.
Williams pleaded guilty to the murders of Marie Comeau and Jessica Lloyd.
Uniforms are typically retrieved when a person leaves the Canadian military, Cdr Genest said, adding that Williams's clothing was torched because a great deal of it had the former colonel's name on it.
"There was no ceremony, but it was formal. We're not going to celebrate, but we're going to do it right. Everything's accounted for," Cdr Genest told the Toronto Sun newspaper.
Williams, who once served as the pilot for Queen Elizabeth II, also admitted in October to a string of burglaries, in which he stole women's underwear and saved pictures on a hard drive of himself wearing the undergarments.
Related Internet Links
The BBC is not responsible for the content of external sites.