US may offer pilots new airport security screening deal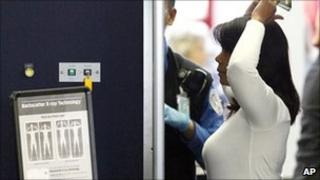 The White House may announce new airport security measures for airline pilots, who have complained about full body X-ray machines and invasive pat-downs, a US official has said.
The head of the US agency that oversees airport screenings told ABC News pilot inspections offered little protection.
Transportation Security Administration chief John Pistole did not say whether security for passengers would change.
New airport screening methods have provoked anger in some US travellers.
Mr Pistole said on the ABC network's Good Morning America programme that the new X-ray scans, which can produce revealing body images, and pat-downs intended to find explosives and other weapons would offer little protection against any pilot determined to sabotage a flight.
The TSA chief said the new inspections, which started three weeks ago, might soon change for pilots.
"We've had a number of very good discussions with pilots and hope to be announcing something very soon in terms of a good way forward for the pilots for that very reason, using a risk-based intelligence driven process," he said.
Pilots' unions have complained about the security measures and raised health concerns over new full-body scanners being used at more than 60 airports throughout the US, saying their members have already gone through security background checks.
But Mr Pistole said the close-quarter body inspections are sometimes unavoidable in a time of terror threats.
Security backlash
The ABC interview comes amid a flurry of objections by travellers across the US who have refused to undergo the new scans and pat-downs, claiming that new methods for checking passengers are highly personal.
Travellers at US airports who refuse to be screened via new full body scanners must undergo an extensive hand search, which include touching of the genital region and breasts.
Critics have called for travellers to boycott the screening procedures during next week's Thanksgiving holiday, one of the busiest travel days of the year in the US.
Some airports have threatened to privatise security screening rather than use TSA officials, because they fear travellers are being put off flying by what they consider invasive inspections.