Biden warns failure to pass nuclear treaty endangers US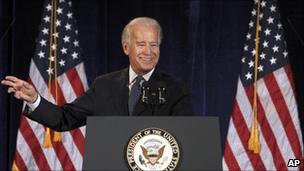 Vice-President Joseph Biden has warned the US that failure to ratify a new nuclear arms control treaty with Russia will "endanger our national security".
He was reacting to comments by Jon Kyl, a Republican senator who said he did not think ratification of the New Start treaty should be considered this year.
Mr Biden said without such approval, the US would be unable to inspect and track the Russian nuclear arsenal.
The treaty aims to reduce the nuclear arsenal of the two countries.
Signed in April by US President Barack Obama and his Russian counterpart Dmitri Medvedev New Start replaces the Start treaty which expired in December of last year.
"The New Start treaty is a fundamental part of our relationship with Russia, which has been critical to our ability to supply our troops in Afghanistan and to impose and enforce strong sanctions on the Iranian government," Mr Biden said in a statement released by the White House.
BBC State Department correspondent Kim Ghattas says there is an all out effort by the Obama administration to get ratification during the lame duck session of Congress.
In January the Democratic majority in the new Congress shrinks to 51. Sixty-seven votes are required to pass the treaty.
Our correspondent says that frustrated Democrats believe Republicans are keen to deprive Barack Obama of any political victory after the mid-terms elections but warn that voters will not want their representatives to play with the country's national security.
The treaty was designed in part to replace the Strategic Arms Reduction Treaty of 1991, which expired in December 2009.
It commits the former Cold War enemies each to reducing the number of deployed strategic warheads and delivery vehicles, and establishes a compliance and verification regime.
Senate Republicans have said they need further reassurance about America's deterrent capability after Start.
Mr Kyl said in a statement: "When Majority Leader Harry Reid asked me if I thought the treaty could be considered in the lame duck session, I replied I did not think so given the combination of other work Congress must do and the complex and unresolved issues related to Start and modernization."
But Mr Biden noted the treaty had been vetted in 18 Senate hearings and had been endorsed by prominent former national security and diplomatic officials of both parties.
The vice-president said the Obama administration had made clear its plans to spend $80bn (£50.4) to upgrade the nuclear arsenal over the next decade, and plans to request an additional $4.1bn.