Sudan pledges to hold and respect referendum vote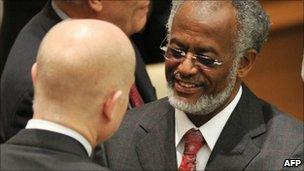 Rival officials from Sudan have underlined to the UN Security Council their commitment to hold a referendum on independence for Southern Sudan.
The UN called the meeting over fears that the vote, due to be held in January, could be delayed, reviving conflict between north and south.
Security Council members pledged support, saying the world was watching.
UN Secretary General Ban Ki-moon warned that the potential for "unintended conflict" was high.
He said a major concern was the "possibility of a return to the suffering and loss of life seen during the long war between north and south".
"We have [...] heard hostile public statements and accusations of ceasefire violations which risk heightening anxiety and provoking isolated security incidents that can escalate into a wider conflict," he said, warning that the risk was particularly high in the oil-rich Abyei region, which straddles the border.
Sudan's Foreign Minister Ali Ahmed Karti and a senior Southern official, Pagan Amun, told the Council they were committed to holding the referendum on time, and that they would respect the outcome.
The south will almost certainly vote for independence and there is concern that the Khartoum government in the north will not recognise this. There is a further fear of renewed conflict if it does not.
US Secretary of State Hillary Clinton offered "dramatically" improved relations for Sudan but warned that if it chose conflict, the government would face consequences including additional pressure and deeper international isolation.
The 9 January vote "is critical to peace and stability not just for Sudan but also for the neighbours," Mrs Clinton said.
She also said that officials on both sides "must avoid inflammatory rhetoric, quell rumours and dampen animosities".
The two sides reached a framework agreement at the weekend, setting out the terms of negotiations on disputed issues such as a future borderline and division of oil revenues.
But the process of voter registration has only just begun.
Fearing the worst, humanitarian agencies are already positioning food in potential hotspots, and preparing contingency plans for a possible mass flight of people in case of any conflict.
UK Foreign Secretary William Hague said the vote was a "defining moment for Sudan and its people" and emphasised that the international community would do all it could to support the country to peacefully complete the process.
"It is a period of great risk and therefore a situation that the Security Council cannot ignore; but it is also a time of opportunity, and a chance to achieve greater stability in Sudan that the world cannot let go by," he said.
Related Internet Links
The BBC is not responsible for the content of external sites.