Arrest after fatal California motorcycle crash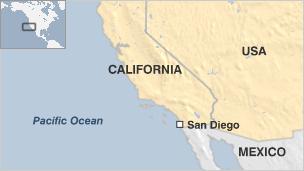 Police in southern California have arrested a car driver following a collision with a group of motorcyclists which left five people dead.
Four bikers and a car passenger died in the head-on crash on a desert motorway east of San Diego on Saturday.
The motorcyclists had been marking the 10th anniversary of the founding of their club.
Driver Carlos Ramirez Bobadilla, 36, was arrested on suspicion of drink-driving, police said.
However, he is not being held responsible for the deaths based on evidence collected so far, police say.
Mr Ramirez, of Mexicali, Mexico, was treated for a broken hand at a San Diego hospital following the accident at Ocotillo, about 80 miles (128km) east of San Diego. Five other people were also injured.
Police are looking for the driver of another car, which is believed to have forced him to swerve into the path of the motorcyclists.
The motorcyclists were members of the Saddletramps Motorcycle Club, from the town of Lakeside.
The names of the dead have not yet been released.