Ex-Obama aide Rahm Emanuel unveils Chicago mayor bid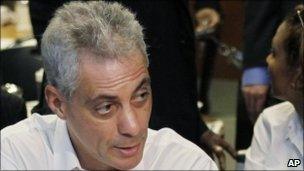 US President Barack Obama's former chief of staff, Rahm Emanuel, has confirmed he will be standing for the post of mayor of Chicago.
Mr Emanuel quit his post with the president on 1 October and was widely expected to try to replace mayor Richard M Daley.
The election to replace Mr Daley, who said in September he would be stepping down, is on 22 February.
Mr Emanuel was considered by some as Mr Obama's chief enforcer.
Mr Emanuel is a native of Chicago who represented Illinois's 5th district in Congress for six years.
He announced his candidature at a meeting in a school on Chicago's North Side.
"Only the opportunity to help President Obama as his chief of staff could have pried me away from here," he said.
"And only the opportunity to lead this city could have pried me away from the president's side."
Mr Emanuel added: "Our first responsibility is to make the tough choices that have been avoided too long because of politics and inertia."
When he resigned as chief of staff, Mr Emanuel said he was sad to be leaving his position in Washington, but was excited to be heading "home to Chicago - the greatest city in the greatest country in the world".
Mr Emanuel has a reputation as a fierce figure with a short temper.
He could face about half a dozen rivals in the race to replace Mr Daley, who has been mayor of Chicago since 1989.