US unveils anti-smoking scare photos on cigarette boxes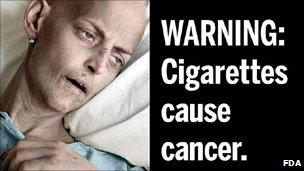 Graphic pictures depicting the possible consequences of tobacco use are soon to adorn boxes of cigarettes sold in the US, officials have said.
The pictures- which include a corpse on a morgue slab and a man with a tracheotomy hole in his neck - are intended to scare people off smoking.
The initiative sees the US follow the lead of Australia, Canada, the UK and other nations.
Tobacco use is responsible for 443,000 US deaths each year, statistics show.
The Food and Drug Administration (FDA) released 36 separate images for public comment on Wednesday. The agency will choose nine graphics in June after reviewing scientific literature, public comments and an 18,000-person study, the FDA said in a statement.
Beginning in autumn 2012, cigarettes will no longer be allowed for sale in the US without the new health warnings.
Cigarette boxes in Australia, Brazil, Canada and other countries already display graphical warnings.
The UK began requiring graphic warnings in 2008.
The proposed US graphics include sickly patients wearing oxygen masks, a man in shirt and tie gripping his heart in pain, a sick baby in an incubator and a body in a coffin.
They also include more positive images - a healthy-looking man wearing an "I quit" shirt, a pile of cigarettes in a toilet and a woman blowing a soap bubble.