Actress Jill Clayburgh dies aged 66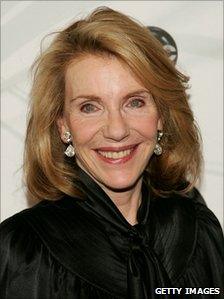 Hollywood, TV and Broadway actress Jill Clayburgh has died aged 66.
She was nominated for an Oscar for her role in An Unmarried Woman in 1978 and for Starting Over, opposite Burt Reynolds the following year.
Her husband, playwright David Rabe, said she died from leukaemia at home in Connecticut. She had lived with the illness for more than 20 years.
Her TV appearances included playing the mother in the Ally McBeal series.
In An Unmarried Woman, Clayburgh played Erica, a wife and mother whose husband leaves her for a younger woman and who then starts a relationship with an artist, played by Alan Bates.
"There was practically nothing for women to do on the screen in the 1950s and 1960s," Clayburgh said in an interview with AP news agency when promoting An Unmarried Woman in 1978.
"Sure, Marilyn Monroe was great, but she had to play a one-sided character, a vulnerable sex object. It was a real fantasy."
In another interview, with the New York Times in 1982, she commented on her roles playing women facing up to life's challenges: "I guess people look at me and they think I'm a ladylike character," she said. "But it's not what I do best. I do best with characters who are coming apart at the seams."
Clayburgh won best actress award at the Cannes Film Festival for her performance in An Unmarried Woman.
She also received Emmy nominations for her role playing a prostitute in the 1975 TV movie Hustling and in 2005 for her role in Nip/Tuck. She also appeared in the TV series Dirty Sexy Money.
Her final film, Bridesmaids, has not yet been released.
Related Internet Links
The BBC is not responsible for the content of external sites.