Tropical Storm Tomas: Tense evacuations in Haiti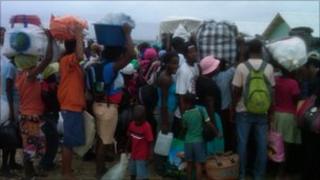 In the Corail camp by the hills north of Port-au-Prince women and children are being evacuated, fleeing Tropical Storm Tomas.
Having survived January's earthquake, now they're escaping from the path of what could be yet another natural disaster.
The scars on the hillside explain why this evacuation is necessary. So many trees have been cut down for charcoal that there's nothing to stop heavy rains from causing mudslides and flooding.
Corail camp is exposed and windy and it's about to get worse. As UN peacekeepers guide the mothers and babies onto the lorries that will take them to a local hospital, the evacuation suddenly becomes chaotic.
Young men leap into the vehicles, sensing a chance to escape. Eventually they obey the command to get off.
Leonard Doyle from the International Organisation for Migration, the UN agency managing the camps for the 1.3 million earthquake survivors, says it is a tense situation, moving people from a densely populated camp.
He says it could be a long, tough night ahead, with fears that tents could be blown away or torn by the winds.
South of Corail in the capital Port-au-Prince, managers of the Petionville camp are telling people to leave and seek shelter with friends and relatives in sturdy homes.
By one of the many ravines running through the camp, which could flood as Petionville is on a hillside, I met Lena and her 17-year-old son and baby.
Lena has heard the warnings and knows her tent could be swept away by the rains. But she has nowhere else to go, and no money.
In the next door tent, Lesende, mother of teenager Margaret, tells me she's not leaving either. "I will trust God to take care of me," she says simply.
Sean Penn, the actor whose charity manages this camp, tells me it isn't surprising that people won't leave.
There is a history of forced evacuation in this country he explains, and people fear that if they leave they won't be able to come back.
The rains are already starting to fall, and an anxious night lies ahead.
Among the many uncertainties, will the cholera outbreak spread because of the heavy rain, and the risk that stagnant water will incubate the disease?
It hasn't yet taken hold in the capital Port-au-Prince, where it could spread rapidly because of the crowded living conditions.
In the Petionville camp, Spiranta kneads the patties she sells to make a living, reflecting on how much Haitians have to endure. It makes me feel so bad, all the suffering in Haiti, she sighs.