JFK's speechwriter Ted Sorensen dies at 82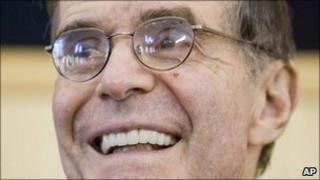 One of late US President John F Kennedy's closest aides, Theodore "Ted" Sorensen, has died at the age of 82.
As a top speech-writer, Sorensen was credited with writing some of Kennedy's most famous words.
He was a key associate throughout Kennedy's political career and won particularly praise for his work during the Cuban missile crisis.
President Barack Obama paid tribute, saying Sorensen's "legacy will live on in the words he wrote".
CIA role
Sorensen has been credited by some with writing one of Kennedy's most famous phrases - "Ask not what your country can do for you; ask what you can do for your country" - although Sorensen insisted those were Kennedy's words.
The "man on the moon speech" was said to be a close collaboration.
Sorensen was deeply involved in Kennedy's Pulitzer Prize-winning book, Profiles in Courage.
Kennedy called him "my intellectual blood bank".
Sorensen also wrote the biography Kennedy, published in 1965.
He lost the Democratic primary when running for the Senate in New York in 1970.
President Jimmy Carter later wanted Sorensen to head the CIA, but his liberalism and earlier comments about the organisation scuppered his chances.
Sorensen himself said his role in the Cuban missile crisis gave him the most pride.
"That's what I'm proudest of," he said. "Never had this country, this world, faced such great danger. You and I wouldn't be sitting here today if that had gone badly."
Sorensen suffered his second stroke a little more than a week ago.
Mr Obama said: "I know his legacy will live on in the words he wrote, the causes he advanced, and the hearts of anyone who is inspired by the promise of a new frontier."