Bomb plot shows growing creativeness and ambition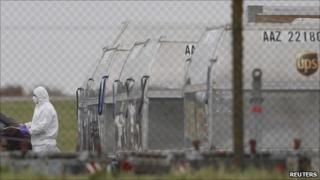 When the UK government's emergency committee, Cobra, met today, it was given a detailed presentation by John Yates, who co-ordinates counter-terrorist investigations, on the forensic test results into the device located at East Midlands Airport.
Afterwards, the Home Secretary, Theresa May, revealed that the suspicion was now that the devices were designed to blow up the aircraft en route.
The explosive that had been carefully hidden inside was enough to achieve that aim, officials say.
Theories about the aim of this plot have abounded since the first reports of cargo being searched.
For a while it appeared it might have been a "dry run" to test if a package could get through cargo screening without being spotted, but the presence of explosives ruled that out.
British counter-terrorist experts say they recovered a "professionally-built device".
Creativeness and ambition
Al-Qaeda in the Arabian Peninsula (AQAP) is known to have been developing advanced and inventive bomb-making techniques.
It came close to killing the Saudi interior minister with one device and to bringing down an airliner on Christmas Day with another.
This is another sign of growing creativeness allied to ongoing ambition.
Attacking cargo planes has also long been anticipated as a potential tactic.
Militant groups regularly look for any weak spots in security, and aviation remains a prime target.
The exact way in which these devices were to be detonated is not clear, but British officials believe those who planted the bombs would not have known exactly where the planes would have been when the blew up.
Forensic investigations of the devices will continue and British police will also have to decide whether they want to try to pursue their investigation in Yemen.
However, since so much of this case appears intelligence led - not least in the form of a tip-off from Saudi Arabia - it may be hard to construct any kind of realistic criminal case.
Restrictions
Instead, the focus from the US will be on going after the sanctuary AQAP has found in Yemen - perhaps by employing more of the drone strikes which have put al-Qaeda leaders in Pakistan under pressure, and by trying to work even more closely with the government in Yemen, not always the easiest partner.
The "liquid bomb plot" of 2006 also failed. It was stopped even before any explosives were taken on board a plane.
But that did still succeed in changing the way in which passengers around the world travelled by air, with new restrictions brought into place, and a heavy cost in time and money inflicted on the public.
This attack may have similar consequences for the way in which cargo is moved around the world.
It will also succeed in raising the reputation of AQAP amongst its supporters and increasing the desire of those battling it to pursue it even more vigorously.