US Elections 2010: Governors' races to watch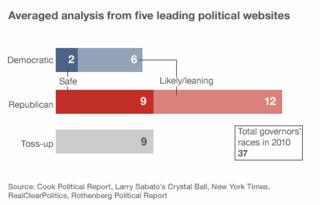 Votes to elect a new governor will be held in 37 US states on 2 November, with forecasters predicting a net gain for the Republicans of between six and nine governors.
Governors can exercise a significant influence on presidential elections - so it's a source of concern to Democrats that they risk losing governorships in key swing states, including Ohio, Pennsylvania, Michigan, Illinois, Wisconsin, Iowa and New Mexico.
The governor's race in the perennial battleground state of Florida is widely regarded as a toss-up.
Some experts are predicting that independent candidate Lincoln Chafee could win the governorship of Rhode Island.
Here are 10 governors' races to watch:
Florida
With incumbent Charlie Crist quitting the governor's mansion to run for the Senate, the Florida gubernatorial race is wide open. The Democratic candidate - Florida's Chief Financial Officer Alex Sink - is fairly low-key, but Republican primary voters may have done her a favour by nominating Rick Scott as her opponent. Scott is a multi-millionaire healthcare entrepreneur whose company was investigated for defrauding the Medicare system in the late 1990s. Florida's many senior citizen voters may well take a dim view of any suggestion that Scott was involved in such activity. But, as always, Florida is a swing state, and its voters may well be swept along if there is a Republican wave in November.
California
The Terminator jokes will have to end: Arnold Schwarzenegger will not be back. California laws limit governors to two terms, and the governator is reaching the end of his second. The race to succeed him is set to be a close one. California is traditionally a liberal state, but - as Mr Schwarzenegger's success demonstrated - its voters have no problem with voting for Republican governors. The party's candidate is billionaire former eBay CEO Meg Whitman, who has already spent $140m (£88.45m) of her own money on her campaign. Her Democratic opponent Jerry Brown, 72, served as governor from 1975 to 1983, and has been in and around the highest levels of California government for four decades (he also made long-shot presidential bids in 1976, 1980 and 1992). Polls have given Mr Brown an edge, since it emerged that Ms Whitman sacked her housekeeper in 2009, for being an illegal immigrant. Ms Whitman has repeatedly pledged to hold employers of illegal immigrants "accountable".
Illinois
The Democrats are usually favoured to win in Illinois. But this year's gubernatorial race in Barack Obama's home state could be a tricky one for Democratic incumbent Pat Quinn. Mr Quinn took office after the downfall of his predecessor, Rod Blagojevich, who was accused of attempting to "sell" government appointments (including Barack Obama's vacant senate seat) in return for campaign contributions. Mr Blagojevich was tried and found guilty of just one charge (although a retrial is planned), but his notoriety has not done Pat Quinn any good. Mr Quinn is trailing his Republican challenger, state Senator Bill Brady, in some polls, but could still pull off a victory in this true-blue state.
Ohio
Ohio is a quintessential swing-state, so elections here always to end to be close. This year's gubernatorial race will be no exception. Incumbent Democratic Governor Ted Strickland is facing a tough challenge from Republican Congressman John Kasich. Strickland's personal popularity will only take him so far in an election year that is going to be poisonous for Democrats. He has not delivered on promises made in 2006 to restore the state's economy to health - the unemployment rate is one of the worst in the country. Mr Kasich's weak spot is his former job as a Lehman banker, which Mr Strickland has been at pains to underline.
Pennsylvania
Like clockwork, the Pennsylvania governorship has alternated between the Republicans and the Democrats every eight years since the 1950s. So - as Democratic governor Ed Rendell ends his eight-year term - the Republicans are optimistic that history will repeat itself. Neither candidate is particularly well-known, but the Republican candidate, state Attorney General Tom Corbett, is ahead of Democrat Dan Onorato and looks set for victory.
Wisconsin
Wisconsin has been badly hit by the economic crisis, and incumbent Democratic governor Jim Doyle's popularity has suffered as a result. He has decided not to fight for re-election, giving the Republicans a prime opportunity for a pick-up in this swing state. Democratic candidate, Milwaukee Mayor Tom Barrett, is personally popular but may suffer from being too close to Mr Doyle. Barack Obama has visited the state regularly in recent weeks - but Republican candidate Scott Walker says this only helps his cause, resulting in a rush of new volunteers.
Michigan
Michigan - the spiritual home of America's automobile industry - has been hit hard by the recession. That is not good news for the Democrats, who currently hold the state's governorship. Incumbent Jennifer Granholm is barred from running for another term. Her party was unable to find a high-profile candidate to enter the contest, and chose Lansing Mayor Virg Bernero. Polls suggest that Republican candidate Rick Snyder, a tech entrepreneur, has a handy lead. Larry Sabato's Crystal Ball writes: "Something truly remarkable is happening in Michigan. The Republican nominee, businessman Rick Snyder, is romping to a landslide victory in this normally Democratic state."
Minnesota
Outgoing Republican Governor Tim Pawlenty is quitting office to make a presidential bid in 2012, and the race to replace him is wide open. The state has a pronounced liberal tendency, but has regularly returned Republicans to office in state-wide contests. This year, the Democrats have a high-profile candidate in the form of former Senator Mark Dayton, while the Republicans have picked state senator Tom Emmer. Minnesota also has a strong tradition of voting for independent candidates - former wrestler Jesse Ventura, an independent, was state governor from 1999 til 2003, and this year Tom Horner is running on the Independence Party ticket. Horner used to be Republican, but is running as a centrist, so could take votes from both candidates. Polls suggest Dayton is narrowly in the lead.
New Mexico
New Mexico has been having a Democrat trend in recent years (in line with trends within the Hispanic community, who make up some 46% of the population of the state). Current governor Bill Richardson is a Democrat, but is term-limited and unable to run this year; his deputy, Diane Denish, is the Democrats' candidate. Opposing her for the Republicans is Susana Martinez, a district attorney. This is only the third all-female contest in American history. Polls suggest that Ms Martinez has a narrow lead.
Texas
Texas is a very Republican state, and its Republican Governor Rick Perry is maintaining decent approval ratings (Texas's economy has been less affected than most by the financial crisis). So in what looks like being a very pro-Republican year, Perry should win an impressive third term with out too much difficulty. But his Democratic opponent, Houston Mayor Bill White, is also pretty popular in urban Texas - a fact reflected in some recent polls suggesting a close race. The contest could yet throw up a surprise.