Shahzad trial: A test for US courts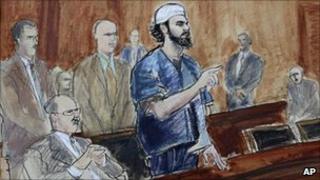 Faisal Shahzad, the would-be Times Square bomber, used his time in court during his sentencing on Tuesday to deliver a remorseless, jihadist screed against the United States.
He used tropes that Western nations have become all-too familiar with - likening the wars in Iraq and Afghanistan to the crusades, rejecting US democracy, scoffing at man-made laws and warning Americans to "brace themselves" for their imminent demise.
"We have watches, and we have time," he said, attempting to convey an ominous tone.
"We will defeat you with time."
Shahzad said his life-without-parole sentence meant nothing to him and that Americans do not comprehend the suffering of his people.
During the trial, he told investigators he had hoped to kill people and would have carried out another attack in New York.
But perhaps the most disturbing thing about the aspiring killer's diatribe was not his unrepentant stance - it was that his words have become so familiar to Americans that their power to shock has been thoroughly diluted.
The chill in the courtroom air seemed to have given way to disdain.
"You are a young man, and you will have a lot of time to reflect about what you have said today, and what you have done," Judge Miriam Cedarbaum, a long-serving federal judge, told him in a dry, calm tone.
"I do hope you will spend some of the time in prison thinking carefully about whether the Koran wants you to kill lots of people," she said.
He replied that the Koran bestows the right to defend, "and that is all I am doing".
Judge Cedarbaum, displaying little patience for his militancy, dispensed his sentence with sharp, cold efficiency.
Military versus civilian
Shahzad's case comes amid an ongoing dilemma over how to deal with allegedly dangerous terrorists incarcerated at the US military prison in Guantanamo Bay.
President Barack Obama had promised to close Guantanamo in the first year of his presidency, but the prospect of moving suspected terrorists onto US soil sparked a heated national debate.
Tempers flared over Guantanamo's replacement - a proposed supermax prison in Thomson in the US state of Illinois - with Mr Obama's opponents arguing that it invited a terror attack on US soil.
His supporters countered by noting the exceptional security of the US prison system, which has proven capable of holding dangerous prisoners for many years.
But the debate reached boiling point when Attorney General Eric Holder's plan to try accused 9/11 mastermind Khalid Sheikh Mohammed in a New York Court rather than a military commission became public.
The proposed trial aroused deeply-held fears of another terrorist attack in Manhattan.
Republicans like Senator Lindsey Graham - who prefers the less rigorous evidence standards of military commissions for dealing with the most dangerous terror suspects - worried that legal mishaps could result in setting Mr Mohammed free.
Mr Obama subsequently lost the support of the handful of conservatives, who could have enabled his plan to close the notorious Guantanamo facility.
'Swifter punishment'
The relative efficiency of the Shahzad case will no doubt be used by opponents of the military commission system.
Shahzad was caught and charged in May and sentenced six months later.
With ample evidence, government prosecutors were able to make their case swiftly.
And, for his part, Shahzad pleaded guilty, helping to expedite the process.
"Civilian courts - i.e., real courts - provide far swifter and more certain punishment for terrorists than do newly concocted military commissions," Glenn Greenwald, a prominent legal and political blogger wrote in June.
Another important test of the ability of civilian courts to deal with terror suspects will take place on Wednesday, when the trial of Ahmed Khalfan Ghailani, who is accused of participating in the 1998 bombings of US embassies in Kenya and Tanzania, commences.
Mr Ghailani is the first prisoner from Guantanamo to be tried in a US civilian court, and, should his trial be as speedy as Shahzad's, we may hear the chorus of those opposed to military commissions grow ever louder.
But whether Mr Obama has the political capital to meet their demands is a different question entirely.