Canadian soldier sacked for shooting wounded Afghan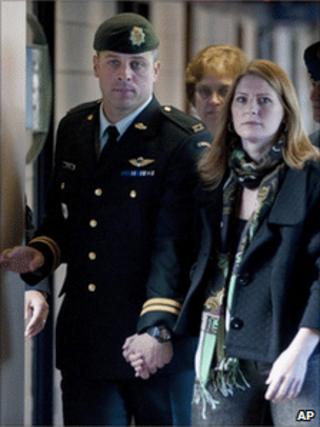 A Canadian army captain convicted of shooting an unarmed, wounded Afghan fighter has been demoted and sacked from the military but was not jailed.
Capt Robert Semrau, who also served in the British army, was found guilty of "disgraceful" conduct in July.
The Afghan that Semrau was accused of shooting had allegedly taken part in an ambush on Semrau's unit and was already near death after a helicopter attack.
The prosecution did not prove that Semrau's rifle shots had killed him.
"Shooting a wounded and unarmed person is disgraceful because it is so fundamentally contrary to our values and training that it is shockingly unacceptable," military judge Lt Col Jean-Guy Perron is quoted by CBC as saying.
In October 2008, Capt Semrau's unit was attacked while on patrol in Helmand.
According to court records, a US Apache attack helicopter came to their rescue, and in the ensuing fight a suspected Afghan Taliban fighter lay disarmed and severely wounded, with one witness testifying he was "98% dead".
Prosecutors said Semrau fired two shots at the prone fighter in a "mercy killing".
Semrau, 36, was acquitted in July of second-degree murder because a jury of military officers was not persuaded the Afghan had died as a result of the shooting, a prosecutor said.
He will leave the military with the reduced rank of second lieutenant. He had faced a potential sentence of up to five years in prison.
A lawyer for Semrau said he was "very disappointed" by the judge's sentence and was considering whether to appeal.