Ex-Obama aide Rahm Emanuel set to run for Chicago mayor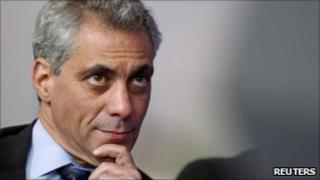 US President Barack Obama's former Chief of Staff Rahm Emanuel says he is preparing to run for Chicago mayor.
Mr Emanuel made the announcement in a video posted on his website, ChicagoforRahm.com.
The move was widely expected as Mr Emanuel has made no secret of his desire to one day run for mayor.
Mr Emanuel - who has a reputation for brashness - is a native of Chicago and represented Illinois' 5th district in Congress for six years.
Pundits have tipped Mr Emanuel to replace Richard M Daley, since the latter announced on 7 September that he would be stepping down.
'Glad to be home'
In the video, Mr Emanuel said: "I'm going to spend the next few weeks visiting our neighbourhoods (in Chicago) - at grocery stores, L stops (metro), bowling alleys, and hot dog stands".
"I'm calling this the 'Tell It Like It Is' tour, because I want to hear from you - in blunt, Chicago terms - what you think about our city, and how the next mayor and you, can make it better."
He said that "it was a great honour to work for" President Barack Obama, but he was now "glad to be home".
"Leading Chicago would be a great responsibility and a tremendous privilege," Mr Emanuel said.
Earlier this year, he admitted that "one day I would like to run for mayor of the city of Chicago."
"That's always been an aspiration of mine even when I was in the House of Representatives."
In his video, Mr Emanuel also paid to tribute to Mr Daley, his long-time political ally.
"Chicago's a world-class city today because of Mayor Daley's leadership. He deserves our appreciation."
Mr Daley - who has been mayor of Chicago since 1989 - announced last month that he would not seek a seventh term.
The mayoral election is due to be held in February 2011.